August 1, 2017



Nicole is an SAI Ambassador who was selected to intern at SAI's headquarters in Sonoma County, California for the summer. Below she talks about her "SAI Moment", a defining moment in her SAI study abroad experience.

The six months I spent in Europe hold so many of my most favorite memories. However, there are a few that really stand out from the others. There are certain things or places that make you take a step back and just think about how fortunate you are to be in such an amazing place. I like to call these "aha" moments.

Seeing huge monuments such as the Eiffel Tower, the Colosseum, the Leaning Tower of Pisa, etc. were all really special moments for me. I downplayed them because of how touristy they are, but I shouldn't have.. They're touristy for a reason and it's because they're amazing! The Eiffel Tower was the one I downplayed the most, but it wound up hitting me the hardest. You see it and there's this feeling of disbelief that you're actually standing there in front of it, seeing it in real life. It's not a picture on someone's wall anymore. You're really there and it's way more incredible than you ever expect it to be.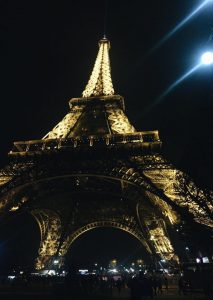 While these were monumental moments for me (get it?), none were my big "aha" moment. My big "aha" moment took place in Prague. It was a snowy day in March and my roommates and I were out exploring. It was the day after my 21st birthday and I already felt so lucky to be able to spend my birthday in such an amazing place with an amazing group of people. After dinner, we decided to grab a doughnut cone – a must eat in Prague. It is a cone made of cinnamon sugar-covered dough, topped with chocolate and stuffed with ice cream.. YUM.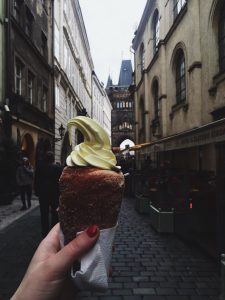 I was so full from dinner and I was struggling to eat it, but it tasted so good. We wandered into the Old Town Square and I saw a homeless man digging through the trash, eating people's leftover food that they threw away. Here I was, overstuffing myself with food and I wasn't even hungry. I decided in that moment that I wanted to give him my ice cream. I walked up to him and asked him if he wanted it and his eyes lit up. As I started to walk away, he asked me where I was from and what I was doing in Prague. We wound up standing there for about 30 minutes while he told me a little about his life and how he ended up where he did. The entire time we talked, he didn't even take a bite of the ice cream because he valued the human interaction way more than the food. We didn't even exchange names, but it was a conversation I will never forget. I walked away from the conversation feeling so happy and sad at the same time, but mostly, I felt thankful. I was thankful because I could afford to eat whatever I wanted and have a bed to sleep in every night. Thankful because I was lucky enough to have the opportunity to be able to travel and see things I never thought I would see.
—
Nicole is an SAI Ambassador at Stephens College. She studied abroad in SAI London in Spring 2016.