May 2, 2016



The day I had to sit down and start thinking about packing up seemed so far away- in fact, my program ends in just a few days and it still doesn't seem real. My time studying and living in England has been confusing, stressful, exciting, independent, amazing and much too short.
In just four months I watched myself- as cheesy as this sounds- grow tremendously as a person and a designer. There are things I won't miss (like cars constantly coming at me from the opposite direction) and I'm excited to go home and see my friends and family, I'm even kind of excited to go back to my home university and show them how much I've learned; but there is so much more I am not ready to leave behind.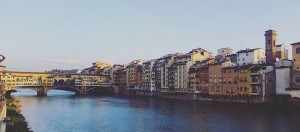 To me, studying abroad initially didn't seem like that big of a deal, even when I arrived the culture shock was not bad at all (possibly because everyone around me spoke english) however, as you live day to day you notice little things that make this experience so special. First of all, from living in London and traveling I have met so many amazing people from different cultures. With each culture comes new customs, for example in England I'm sure I was perceived as kind of rude my first few days as I didn't chipperly add a "sorry!" every time I sidestepped someone. From this I have become a much more open and understanding person. There was also a huge independence shift for me as well. Prior to coming abroad I never ventured out alone much, now I have traveled across the continent navigating my way through language barriers, flight delays, and various forms of transportation by myself. From this I became more easy going (ever had one of those "well I'm not sure if this is the right train- but it's going somewhere!" moments?), confident, and independent. I also experienced a huge shift in maturity. Unfortunately during my time abroad not everything has been golden as Europe has been experiencing a lot of terrorist attacks. These experiences led me to become more resourceful and aware; I get multiple news sources forwarded to my phone so I know what is going on in the world and do research on each place I travel to. After four months, I can proudly look back at all I have accomplished!
On another note, I can not say enough how much I will miss London. The markets on the weekend, the public transportation that can take you across the city in a matter of minutes, the boroughs each with their own personality- I love it all. I can still remember kissing my parents goodbye at the airport, and soon I will be meeting them on the other side. I feel like I blinked and it's all over! Everyone told me after four months I would be ready to come home, but if I had the chance I would stay forever. It's okay though, I'll definitely be back soon!
____
Tori is a current student at Rochester Institute of Technology studying at University of the Arts London during the Spring 2016 term.