August 12, 2020



Election Season is only a few months away.  Whether you are participating in a shortened study abroad program this fall or taking online courses from home, registering for your mail-in ballot can be done easily!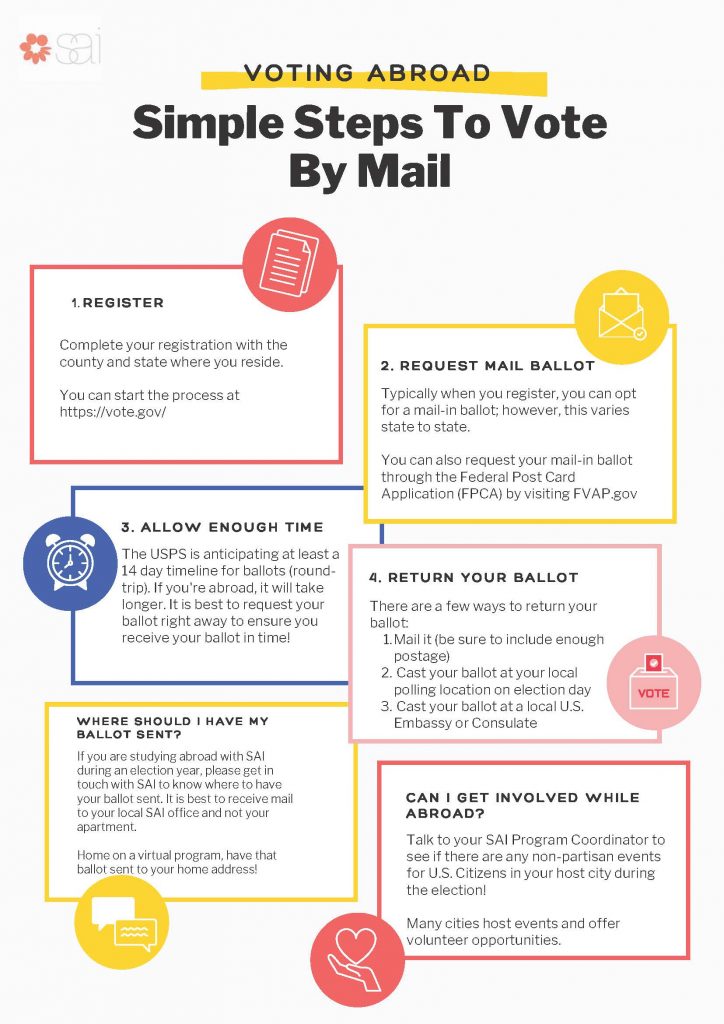 For more information check out our How to Vote While Abroad blog. 
If you are participating in an onsite SAI program this Fall, your program coordinator will have more information about registering, voting, and casting your ballot while in-country. HOWEVER, we highly encourage everyone to register for your ballot before the Fall semester begins!
Simple Steps to Vote By Mail
Register: Complete your registration with the county and state where you reside. You can start the process at https://vote.gov
Request Mail Ballot: Typically when you register, you can opt for a mail-in ballot; however, this varies state to state.  You can also request your mail-in ballot through the Federal Post Card Application (FPCA) by visiting FVAP.gov
Allow Enough Time: The USPS is anticipating at least a 14-day timeline for ballots (roundtrip). If you're abroad, it will take longer. It is best to request your ballot right away to ensure you receive your ballot in time!
Return Your Ballot: There are a few ways to return your ballot. One, Mail it (be sure to include enough postage). Two, cast your ballot at your local polling location on election day. Three, cast your ballot at a local U.S. Embassy or Consulate
Where should I have my ballot sent? 
If you are studying abroad with SAI during an election year, please get in touch with SAI to know where to have your ballot sent. It is best to receive mail to your local SAI office and not your apartment. Home on a virtual program, have that ballot sent to your home address!
Can I get involved while abroad? 
Talk to your SAI Program Coordinator to see if there are any non-partisan events for U.S. Citizens in your host city during the election! Many cities host events and offer volunteer opportunities.
Clau is a University Relations Associate here at SAI Programs.