SAI alumni have learned to live and thrive in a different culture, get by despite language barriers, and understand life outside of comfort zones. This type of international experience is now more than ever a critical element to bolstering employability.
Following is guidance and resources for weaving your study abroad experience into your career search.
Beyond the Awesome
We believe a study abroad provider's job does not end once students return home. Here at SAI, we are committed to investing in each student's experience before, during, and after they study abroad. We hope our Beyond the Awesome guide will help you use your study abroad experience to the fullest by reflecting and considering how you can now speak about your experience in more ways than saying "it was awesome!"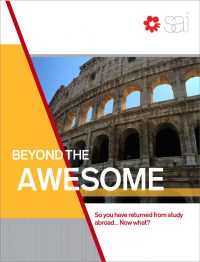 SAI Alumni LinkedIn Group
We welcome all SAI alumni to join the SAI Alumni Linkedin group, which connects past and present SAI students across the globe. The group can be used to expand professional networks, gain professional development advice, and learn about unique job opportunities in international education.
Resume & Cover Letter
Your resume and cover letter are your opportunity to market yourself and your experience in a straightforward manner. Employers often review these items very quickly (and sometimes the first round of review is done through a computer system searching for key words), so it is important to be very clear and to the point. Having international experience is always valuable in your career, and SAI alumni should be sure to include it on their resume and cover letters.
One of the biggest challenges is in recognizing the skills you learned abroad. Spend some time thinking about your most impactful experiences. Did your courses have you working with students from other cultures, or different native languages? Was your worldview challenged? Did you find new ways to communicate with the people around you? Did you find yourself having to be resourceful or creative in responding to issues? Did leaving your comfort zone force you to become adaptable or more self-aware?
Resume
Include your study abroad experience under Education

Did you take any coursework abroad that was relevant to the job?
Did you earn an SAI Global Leadership Certificate?
Did you receive any SAI scholarships?

Include any internship completed abroad under Experience
Include any volunteering experience abroad under Experience or Activities, based on the level and amount of volunteering you did
If you become an SAI Ambassador, include it under Experience
Cover Letter
Use your cover letter to describe, in narrative form, some of the ways that your study abroad experience helped you grow and become a more global citizen. Consider the questions posed above, and discuss some important experiences, what you learned, and how you can apply those lessons to the job.
Interview
Job interviews are your opportunity to personalize yourself, and to explain to the employer why you are the right candidate. Be sure to think creatively about how to answer questions, drawing on various academic and professional experiences to demonstrate your skills and personality. Where you think it's appropriate, draw from your study abroad experience to answer some questions, but be sure you discuss other experiences as well.
Using the STAR interview method is helpful for discussing your study abroad experience:
Situation: what was the challenge?
Task: what did you have to achieve?
Action: what did you do?
Result: what were the results? what did you learn?
Key Lessons & Terms
Consider using some of the following words to describe what you learned through studying abroad (it's important to use specific examples to demonstrate these lessons):
Creativity, interpersonal communication, adaptability / flexibility, global mindset, cultural awareness / cross-cultural understanding, confidence, innovative thinking, problem solving, appreciation of differences, diverse experience, open mindedness, awareness of self, and motivation.