Turn Italy's charming cobblestone streets and lively piazzas into your classroom.
Italy is famous around the world for its remarkable history and rich cultural heritage. From the Roman Empire with the advancement of civil law and engineering, to the Middle Ages with the rise of Christianity and the Roman Church, to the Renaissance with revolutions in science, trade and art, the Italian peninsula has played a central role in the development of western civilization. Today, the country continues to be a vibrant cultural and economic leader, known for its beautiful landscapes, literature, philosophy, art, architecture, fashion, soccer, gastronomy and viticulture. There are 20 regions in Italy, each with its own distinct local culture and cuisine. Rome, Florence, Milan, Venice and the Amalfi Coast make up some of the most popular destinations for students and tourists alike.
Working with SAI's local cultural experts gives you access to unique content and that brings Italy to life for your students.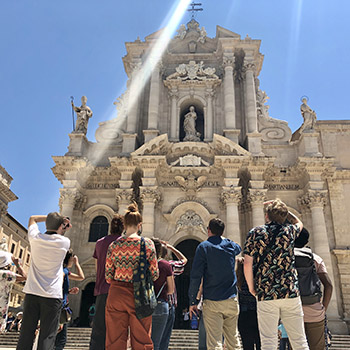 Did you know?
Despite its long history, modern day Italy is one of Europe's youngest countries. The country was born in 1861 with the unification of several smaller regional states.
Although Italian is the official language, some 34 languages and related dialects are spoken throughout the country, including Sicilian, Neapolitan, Sardinian, and more.
With over 15 parks, public gardens and historical villas, Rome is the greenest city of Europe. The city's green areas represent 67% of the municipal area.
The construction of the Milan Cathedral lasted 579 years. Construction began in 1386, and the final details were finished in 1965.
Italy is home to the largest number of UNESCO world heritage sites in any country.
Italian Inventions include the opera, ballet, radio, newspapers, the piano, pizza, gelato and espresso.
Italy has won the world cup 4 times: in 1934, 1938, 1982 and most recently in 2006
Italians produce over 2,500 varieties of cheese and 350 varieties of wine.
In 1339, Florence became the first city in Europe to pave all its streets.