Spain is famous around the world for its Flamenco music and dance, bullfights, beautiful beaches, and amazing cuisine. The Iberian Peninsula has been a cultural center for thousands of years thanks to its unique position between Europe, Africa and the Mediterranean and the many peoples who have occupied its territory throughout history, including the Moors, Christians and Romans. Spain's extraordinary cultural heritage includes prolific artists such as Francisco de Goya, Pablo Picasso and Salvator Dali, renowned architects such as Antoni Gaudí, and virtuoso musicians, such as Andrés Segovia and Paco de Lucia. The country is made up of 17 autonomous regions, each with their own distinct cultures. Catalonia, home to Barcelona, is one of the most popular regions of the country.
Working with SAI's local cultural experts gives you access to unique content and that brings Spain to life for your students.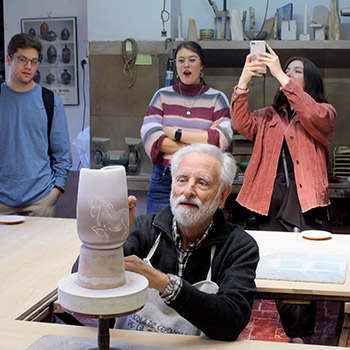 Did you know?
Spain has four official languages: Castilian (Spanish), Catalan, Basque, and Galician.
Spain is home to 47 UNESCO World Heritage Sites.
The classical guitar was invented in Andalusia in the 1790s when a sixth string was added to the Moorish lute. It gained its modern shape in the 1870s.
Don Quixote, written by Spanish author Miguel de Cervantes in 1605, is considered to be the first-ever modern novel and a seminal work of Western literature.
Every August, the famous La Tomatina festival attracts revelers from around the world to the small town of Buñol, near Valencia, for a massive food fight with tomatoes. An estimated 150,000 tomatoes are thrown at the festival each year.
Spain is the largest producer of olive oil in the world, with over 250 million olive trees grown across the country.
One of Spain's best known dishes is the Tortilla Española, a popular egg and potato dish.
Construction of Gaudí's La Basillica de La Sagrada Familia began in 1882 and continues to this day, making it the world's longest running building project.