September 12, 2017



Studying abroad in a foreign country didn't really seem like a big deal to me. I've moved plenty of places on my own for summer internships like New York City and Milwaukee – I came to Europe on a school trip in the 10th grade. What I discovered was that nothing can truly prepare you for the experience that you'll have when you arrive in a foreign country with the knowledge that you'll be staying there for four months. What amazed me most about arriving in Florence, was the abundance of English-speakers in the city. I don't think I was aware that the city center of Florence would get just as busy if not busier than Times Square. There are just as many tourist gimmicks here as there are back in the states. At first I was disappointed, wanting to fully immerse myself in the Italian culture, but I soon realized that my apartment was located in the perfect neighborhood bustling with Italian language and culture.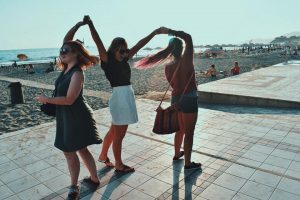 My roommates and I are located in a spacious and beautiful apartment near the Piazza of San Marco, which is filled with friendly bars (a "bar" in Italy is where you go to grab a "caffe" or coffee and a pastry in the morning). Being a caffeine addict of sorts, I was worried coming to Italy knowing that they don't take their coffee the same way that I do back in the states. That is, overflowing with cream and sugar. I am pleased to share that I have been regularly ordering my cappuccino's and macchiato's in Italian at the local "Libre Librarie" which is a library, art gallery, garden and bar all combined into one location. One of the best parts of our apartment is the unique experience of waking up in the morning and hearing Italian chatter spilling inside from the street-facing windows in my bedroom. We live above a Pizzeria and right next to a Trattoria (which means it is a casual restaurant) and both are bustling during most nights of the week. I have been doing the my best to acclimate to Italian culture by making espresso with our Moka Pot in the mornings, shopping fresh produce at the Central Market, and practicing my Italian on Duolingo as much as I can.
I believe that one of the best ways to get acclimated in a foreign country is to immediately immerse yourself in opportunities. I have travelled to various locations in and around the Tuscan Region. My first weekend in Italia, I was able to visit Cinque Terre for a day and explore the cities of Monterosso, Vernazza, and Manarola – all three were gorgeous and bursting with colorful cliff-side homes and had a spectacular view of the crystal blue ocean. During my second weekend, I was fortunate enough to attend a weekend in Maremma and surrounding areas of Tuscany with SAI. Regan and Alessandra accompanied a group of students and we got to visit Bolgheri, Castiglione della Pescaia, Isola del Giglio, and Siena over the course of 3 days. Bolgheri is a tiny town which consists of one traffic loop, but it is famous for the wines it produces and therefore it acquires visitors from all over the world. There, we participated in a wine tasting, sampling reds and whites from the region. I think Bolgheri was my favorite stop by far, because I have truly never seen anything quite like it. We stayed both nights in Castiglione della Pescaia, which is located by the ocean. It was absolutely filled with Italians on vacation and it is comforting to know that I am getting to experience the authentic Italy that not many tourists get to experience. We took a ferry to Isola del Giglio, which is a puny yet stunning island off the west coast of Tuscany. Our last stop was Siena, a city that once competed with Florence for the biggest and most beautiful Cathedral or Duomo. Siena is a city built on a hill, so many of its streets are steep and difficult to travel up and down from. All of the locations were gorgeous and unique in their own way.
Experiencing Italian culture isn't something I ever put much thought into, but I am so glad I made the decision to come to Florence and expand my cultural horizons. Ciao for now!
—
Sarah is a fall 2017 SAI Florence student from University of Kentucky.