November 21, 2017



Florence is a city which prides itself on its rich cultural history, particularly that of the Renaissance. Art flourished in Florence, yielding countless iconic works which draw crowds of visitors every year. Among these great works are several versions of the Biblical hero David, who came to represent Florence because of his ability to overcome seemingly impossible enemies through faith, dedication, and cleverness. Even now, Davids appear in piazzas, courtyards, and postcards across the city. To know which Davids are most worth seeing, here's my list of the best Davids Florence has to offer, ranked by location, historical significance, and likelihood to appear in souvenir stands.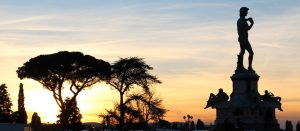 5. Copy of Michelangelo's David, Piazzale Michelangelo
It takes a bit of a hike to get there, but the view of this great bronze copy of Michelangelo's David against the expanse Florentine cityscape is worth it. Grab some gelato at the foot of the hill, or stop in one of the cafés around the open piazza, and take in the incredible Tuscan panorama and triumphant symbol of the city. It's a good spot to get your bearings in Florence, and to pose next to a David not confined to the often crowded halls of a museum.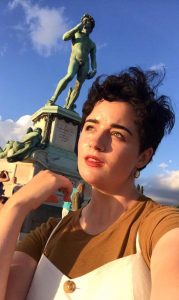 4. Copy of Michelangelo's David, Piazza Signoria
It's still not the original, but it is an accurate copy placed where Michelangelo's original work once was. Just outside of the doorway of the seat of Florentine government (what was once a palace for ruling Renaissance families is now the modern city hall), this sculpture looks out at the historic city center, where you can find modern art, cultural festivals, and a loggia that acts as an outdoor sculpture gallery. Additionally, this David is another one which lends itself to some quality photo ops. Grab a panino or some gelato from any of the numerous nearby shops, take a seat on the benches lining Loggia dei Lanzi, and appreciate some quality people watching in the old heart of Florence.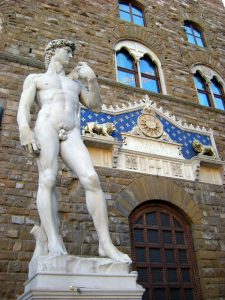 3. Verocchio's David, The Bargello Museum
This sweet-faced lad is said to have been modeled after the young Leonardo da Vinci, who got his start training and working in Verocchio's workshop after moving from the countryside to Florence. He's beautifully modeled, with psuedoscript details on the hem of his tunic, goliath's head at his feet, and a wistful expression as he looks out confidently on his future. Narratively, this David is captured in the aftermath of his victory over his tyrannical foe, Goliath. Students studying abroad can definitely relate to the spirit behind this sculpture, which is as whimsical as it is determined, satisfied with a job well done but always looking out towards the future.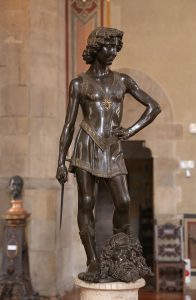 2. Donatello's David, The Bargello Museum
A slightly more scandalous icon of the Renaissance, this David is symbolic of the sweeping fifteenth-century philosophies of humanism. Commissioned for the Medici family, this very sensual David is the first nude sculpture since Classical times, and that nudity is made even more obvious by his boots and hat and the feather resting against his thigh. He embodies the Neoplatonic notions of love of the time, echoed in Donatello's signature use of putti on Goliath's helmet, rolled playfully under David's feet. Crafted with great attention to detail and beautiful form, this David is the jaunty, self-assured, and victorious representation of Florence during its historical upwards swing, a celebration of its great cultural bloom.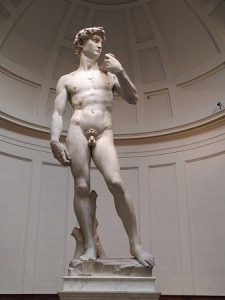 1. Michelangelo's David, Galleria dell'Academia
We all knew this David would make the top of this list, because how could it not? The minute you arrive in Florence you're bombarded with visions of Michelangelo's masterpiece from every angle and in every form — street art, advertisement, plaster miniatures; two copies even made this list! But nothing beats seeing the original in the Galleria dell'Accademia. A statue you think you've seen enough of suddenly takes on new life. In the Accademia, you can see the full glory of a statue considered too beautiful to be placed on the cathedral it was built for, and understand why the people of Florence couldn't bear to put it so far out of sight; you can see him from every angle, and you won't find any flaws in the modeling or ugliness in the details, like the veins that swell in his hands or the wrinkles at his brow. This David, with his contemplative expression and overly large hands holding his tools in preparation, shows thoughtfulness and concern that are so typical of the human condition, and make this hero one that can be understood. Michelangelo's David is the most human David in Florence, and that's what makes him the truest, most enduring icon of a city with so much life.
—
Adelle is a Fall 2017 SAI Florence student from George Washington University.