November 28, 2022



Welcome to your Christmas shopping guide for the student in your life that is studying abroad. Even if that student is you! We asked some of our previous students for their input on what items they used the most often or the items they were super grateful they had while studying abroad in Italy, France, and Spain.

Below, you'll find guides for your student who is about to study abroad and some items they will love and use, and for the souvenirs to bring home from your study abroad trip! 

Find the guide that works best for you and get shopping! All product links are listed below the image or you can click the image for links as well. 

P.S. We do not get any commission, these are merely ideas of great gifts to get for your study abroad trip!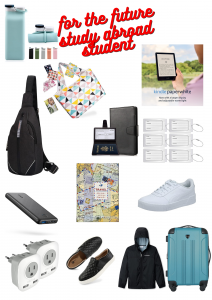 What to get students about to study abroad: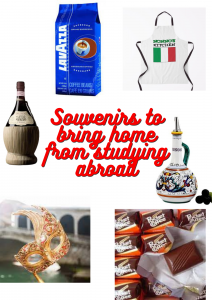 Souvenirs to bring home: 
Cooking supplies
Wine
Apron
Keychain with the place you lived in
Postcards
Shirts that can easily be rolled up to fit in suitcase
Chocolate/candy/non perishable food you can't get in US
Tote bags!

 

Olive oil/truffle oil
Bracelets or jewelry
Leather goods from Florence
Handmade/local products — cups, wallets, magnets, etc
Sauces/dressings/etc
Artwork
Olive oil