May 13, 2021



Each year, the meaningful international travel resource GoAbroad presents awards recognizing innovation and creativity in international education. These awards showcase exceptional ideas and initiatives that are making a positive impact on the field of education abroad.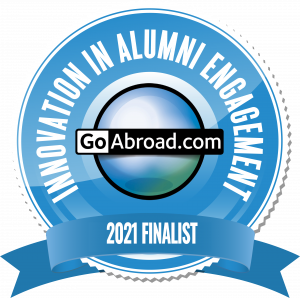 We are excited to share that SAI is a finalist for a 2021 award in the category of Innovation in Alumni Engagement: 
SAI has a long history of offering a robust alumni ambassador program. In August 2020, recognizing the need for additional engagement opportunities for these students, SAI launched the Ambassador Professional Development Speaker Series. This initiative invited guest speakers to present on a variety of topics during monthly virtual ambassador group meetings. 
Presentation topics included: resume and cover letter development, tips for entering the international education field, graduate school considerations, and career tips. As many ambassadors had a desire to further their international experience, guest speakers also presented on the Peace Corps, English teaching abroad, and overseas graduate school opportunities. Each presentation included time for Q&A, and ambassadors were able to engage in dialogue with the presenters. The Speaker Series also allowed for an expanded level of engagement and collaboration with SAI U.S. affiliate institutions, as many guest speakers were subject-matter experts from SAI partners. 
The GoAbroad Innovation Awards are traditionally announced at the annual NAFSA conference. In 2021, the awards will be announced at a virtual event. More information on the awards can be found at: https://blog.goabroad.com/innovation-awards/