November 3, 2023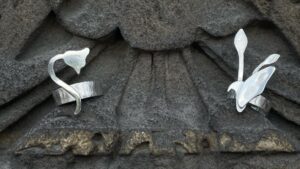 Learning a new skill was one of the many goals I had while studying abroad. I had the opportunity to take the two-week Intro to Jewelry Making course at Paris College of Art. Before this course, I had a limited understanding of jewelry making. However, it was becoming a growing interest of mine. This course taught me the basics of metal smithing and creative ideation.
The instructor, Ines (@inesetlitza), dedicated the first week of class to demos and frequent field trips. We started off with wax molds, carving away a ring or pendant. She also introduced us to some tools; the jeweler's saw, tumbler, polisher, pickle, etc. I had a lot of fun visiting the jewelry shops in Rue de la Paix and Place Vendôme. Some of our other field trips included the Musée des Arts Décoratifs, l'École des Arts Joailliers, Musée du Quai Branly, and the local caster.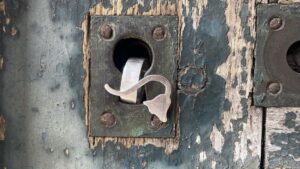 After learning about the different tools and mediums we would work with, we began ideation. Ines tasked us with creating a jewelry line. I pulled a lot of inspiration from the Art Nouveau work I saw at museums, specifically l'École des Arts Joailliers. I found the floral motifs absolutely gorgeous! I began with some plaques of silver, drawing my designs on them and slowly sawing away. Sawing too quickly will cause the blade to break. I also familiarized myself with ring sizing, slowly hammering thin strips into perfect circles using a mandrel.
Aside from jewelry making, I learned some interesting cultural differences. The French are extremely protective of their fine jewelry. Depending on the value of supplies, there are certain security measures put in place for employees and customers. When my classmates and I bought our supplies, we had to enter the building one at a time as a precaution. I also learned how important the French hallmarking system is. Each jeweler has their own unique stamp on pieces. There are additional stamps for metal identification (i.e. 925 for Sterling Silver). They are big on authenticity!
During the second week, we had a guest jeweler come in and talk about her work! Capucine H (@capucine.h) is a French jeweler who aims to highlight climate change through her designs. I really enjoyed hearing about her research in Svalbard, an island close to the North Pole. We were fortunate enough to see some of her beautiful pieces in person. My personal favorite was her Spindle 78°Nord brooch. I felt that she successfully captured the intricacies of snowflakes through the tourmaline needles and geometric patterns. A lot of her work reminded me of home back in the Northeast.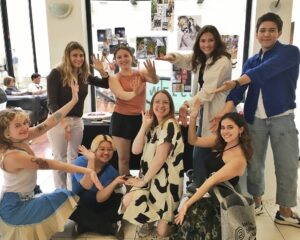 Although a week sounds like a lot of time for a collection, I was surprised when Friday morning rolled around! The last day of class was dedicated to the gallery show. My classmates and I displayed our pieces and mood boards.
I had a lot of fun learning more about jewelry making. My classmates and I can all agree that Ines was super supportive of our ideas and extremely helpful. Her work amazed us. Paris College of Art offers many opportunities inside and outside of the classroom.
Written by: Kiersten, Summer 2023 Paris student from Rochester Institute of Technology