October 20, 2022



I have always loved how listening to music can bring back specific memories, and how certain songs can trigger emotions or mentally transport us to different moments. How people's wedding dance song can take them back to that day, or a child's nursery rhyme can take their parent/guardian back to when the child was young. Even people with memory loss can react to certain songs. I remember seeing a video of a ballerina who was suffering from Alzheimers disease and when they showed her a video of herself dancing on stage to certain music, she started to move her arms the same way she had danced.

In this same way, certain songs quickly take me back to my time abroad: the energy, the emotions, the adventure, and the friendships. We wanted to share that experience with our students, and to capture some of those memories, whether current or in the past, via music.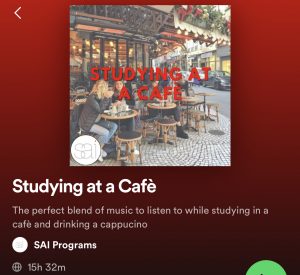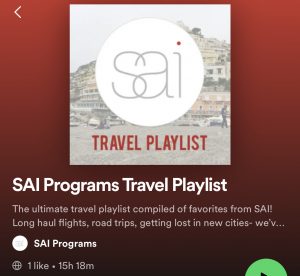 We put together a bunch of playlists on Spotify that we hope you will use as you set off on your next adventure, or reminisce on past adventures. We have playlists to meet any experience, from road trips, to sitting in a cafe, to having dinner with friends or watching the sun set with a view of Barcelona.
We also have a collaborative playlist for all things travel that we welcome any and all SAI students to add their meaningful travel tunes to. 
Check out our Spotify here and save all the playlists you love!