July 15, 2022



Restaurants:

Dining at a café or restaurant in Paris is a very different experience from food service in the United States. The culture around dining moves much more slowly, so make sure to give yourself at least an hour and a half if you plan to go to a restaurant. Servers in Paris will likely not come to your table sporadically to check in or see if you need anything, you will have to flag them down. This might be intimidating at first, but don't be shy! You will also have to flag down your server to receive your check. Tipping is not customary at restaurants in France, as the gratuity has already been factored into the price of your food. However, if you received great service or just want to do something nice feel free to tip, but no need to worry about tipping 20%. You will also have to ask for water, they won't just automatically bring it to you. If your server asks whether you want sparkling or still water, that means you will be given bottled water (which you have to pay for and is usually overpriced). To avoid this just ask for tap water or a carafe.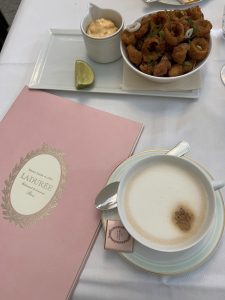 Coffee at one of my favorite restaurants, Laduree
Pickpockets:
While I have not had an experience with a pickpocket attempt, it certainly happens and it is important to take measures to avoid this. Keep your bag closed and close to you, I would recommend using a cross-body or small bag you can keep on your shoulder. Be especially wary in crowded areas, such as tourist hot spots or the metro. I have used carabiners to add extra protection by securing my zippers together so it would be difficult to get into my bag without me noticing. Additionally, do not stop for anyone that comes up to you offering something free, asking you to sign a survey, etc… These are well known scams to make sure your hands are busy so pickpockets can reach into your bag without you noticing!
Museums:
One of the best parts about Paris is having so many museums in one city! Take advantage of this and spend some time visiting different museums!  With your student ID, a majority of museums offer free admission or reduced rates for tickets. Some museums I recommend are:
Louvre Museum
Palais Galleria
Musée de l'Orangerie
Musée d'Orsay
Musée du quai Branly – Jacques Chirac
Cité de l'architecture et du patrimoine
Musée Yves Saint Laurent Paris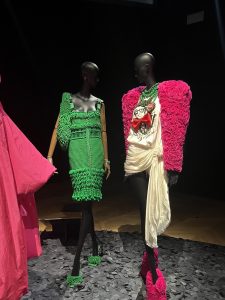 Fashion exhibit at Palais Galleria
Travel:
For traveling around Paris but also neighboring cities, I would highly recommend getting a Navigo pass. Not only do I use my Navigo pass every day to get around Paris, I also used it to visit Versailles which is about an hour away. It may be a little confusing to navigate the metro at first, but different apps such as Google Maps, RATP (my personal favorite), and Citymapper give you the exact route to take to get different places which is much easier than trying to navigate using a map!  If you are looking to travel outside of France, look into the various Eurail passes! This was very helpful for me in planning my weekend trips!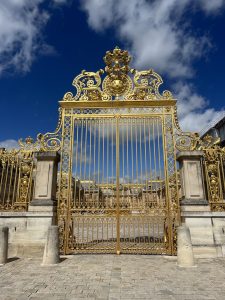 Gates of Versailles
Find a way to remember your experiences:
Living in Paris is an unbelievable experience, and every day is full of so many unique things that aren't in the United States. Find a way to remember your time and document your experiences so that far off in the future, you can look back on your time studying abroad and remember all the little things that made it amazing! I have been making mini vlogs of my days on Tiktok, and even though I have only been in Paris for a few weeks I rewatch some of them and remember little things I had already forgotten! Take photos, journal, keep trinkets from places you visit, scrapbook, whatever works for you!
Maddie is a Summer 2022 SAI Paris student from the University of Arkansas.