January 30, 2017



Have you ever gotten excited over a tiny cup of espresso?, A freshly baked croissant from your favorite secret bakery?, A lemon the size of your head?, or a 1 euro scoop of gelato? If you answered yes to any of these I think we may have a lot in common!

Coming from a big city like New York I sometimes find it hard to take joy in life's simple pleasures. I have always looked towards extravagant things for entertainment and happiness. Spending my spring semester in Florence, Italy taught me to take a breath, look around, and learn to enjoy the simple pleasures in life. Waking up each day in such a beautiful city was not only a privilege but also one of the greatest life changing events I have ever experienced. Time abroad and time in Florence especially, teaches you things about yourself and the world that you may have never have gotten the opportunity to learn. It is a time of self-reflection and a time of embracing and immersing yourself in a new culture.

I'd like to take you through of my favorite things from my time in Florence. To you they may seem like silly little things but to the people of Florence and to the new, more worldly, and simple individual that I have become, they are some of the greatest simple pleasures I will ever know!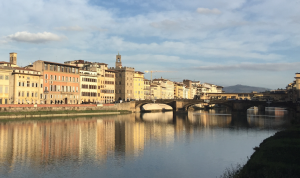 One of my favorite moments of the day was my walk to class at 8:30 A.M. I walked along the Arno River at this time every week and was able to watch the city of Florence wake up and get ready for the day. I enjoyed watching shop owners arriving at work and sprucing up the inside and outside of their stores for the workday ahead of them. Seeing this was like a little behind the scenes of what happens before a day in the tourist heavy city. All I would hear from every angle was "Buongiorno!"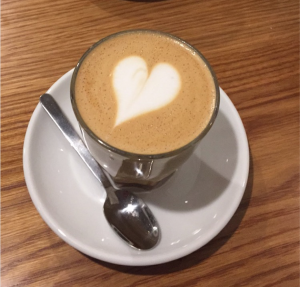 Whether you are a coffee drinker or not, your time in Florence will soon help you learn to love an early morning espresso or un caffè! The little cup of liquid energy is the best simple pleasure and early morning pick me up that everyone needs. 1 Euro espresso is something that I learned to appreciate before my lovely walk to class. I would walk across the street from my apartment and order an espresso from the local bar.It is something that I truly miss from my morning routine here in New York… it just doesn't taste the same.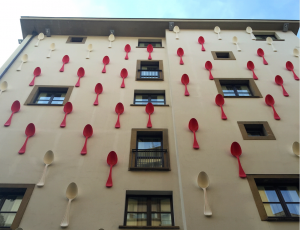 Florence is filled with so many amazing works of art. From the medieval architecture, to the sculptures, and even some newer pieces of modern art, everywhere you turn there is something to see. One of the best things about this city is how the buildings transport you back in time. In my opinion, the city as a whole is such an amazing piece of art. Walking through the courtyard of the Uffizi Museum, there are plenty of statues that will capture your attention. One of my most favorite art exhibits in Florence was a wall of modern art behind the Gallery Hotel. This wall contained larger than life red and white spoons and I always passed by each week to see if it ever changed. It was interesting to see something so new and colorful in such an old city. By the time my semester was over the wall was covered in pinwheels!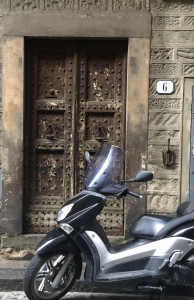 This may sound a little crazy but the city of Florence has an amazing background track playing at all times. The sounds of this city were extremely new to me and also very different from the sounds I've become accustomed to in New York. A simple sound that shocked me until the very last day was the sound of horse hooves trotting down the street while I was in class. There are not many people who can say they hear horse carriages going down the street when their classroom window is open. For me, this sound was a constant reminder of the amazing environment I was in. It really transported me to a different time and allowed me to really live in the Florentine culture and it was a nice change from the roaring sound of Vespas.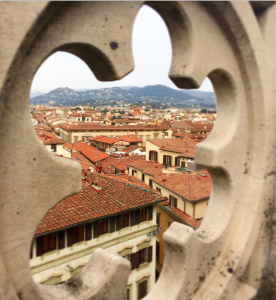 Florence is a treasure and living in such a simple culture will truly change you as a person. I find myself enjoying time alone just walking throughout New York without the need to be entertained. I look around and notice something new everyday and am able to take a step back and breathe in times of stress. The city of Florence and my time abroad have made me a better and more relaxed person for sure. I am so thankful for the simple pleasures I encountered.
___


Lauren Bisogno
Muhlenberg College
I studied abroad in Florence, Italy during the Spring semester of 2016 and it was one of the bravest yet best decisions I have ever made. You've never experienced true relaxation until you are walking to class along the Arno River with your morning cappuccino from your favorite local bar. Being taken completely out of my comfort zone was not easy but it opened my eyes up to an amazing new culture that I was bound to fall in love with. In my 4 months abroad I not only got to experience new parts of the world but I was able to learn a lot about myself and my own world back home. I am so grateful for my time spent with SAI in Florence and I am excited to be able to go back there one day and reminisce on my adventures throughout the city. In such a short amount of time Florence truly became my second home!