February 13, 2023



Happy Valentine's Day! We know there is a certain romance about being abroad, but we knew of a couple who decided on studying abroad together and caught up with them about what it has been like studying abroad with your significant other.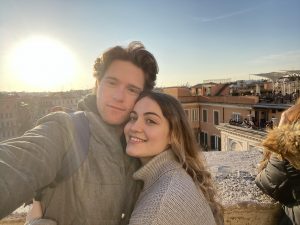 What is your name, home school, and major?
Hello! Our names are Mikah & Shlomo. We are both currently Juniors studying abroad in Rome, Italy at John Cabot University. Mikah attends Muhlenberg College in Pennsylvania where she is studying Psychology and elementary education in hopes to become a teacher. Shlomo attends Queens College in New York studying biology in hopes to become a doctor.
What kinds of classes are you taking this semester? (1 or 2 examples)
The classes we are taking this semester are courses that we hope can help us get a better experience while studying abroad by learning more about the language and the history behind the Eternal City. We are taking an On-Site art class where we travel to different locations every week, learn a little bit about the history and draw what we see. As well we are taking Italian 101 to try to learn the language and blend in the with locals.
How did you meet?
We met in High School in 2019 during our senior year where we became friends. However, we lost touch for a little while, we reconnected and have been dating since!
What made you decide to study abroad?
The decision for us to study abroad together was made at the very last minute. We knew that traveling abroad as a couple was certainly a risk, but if you have a strong relationship, it can be the greatest experience of your life. Getting to experience all the joys of studying abroad, including seeing new places, meeting new people, and trying new food, all with your significant other, is truly unmatched. Not many couples get this opportunity, and when given the chance, we knew we had to take it. We are currently making incredible memories that will last a lifetime.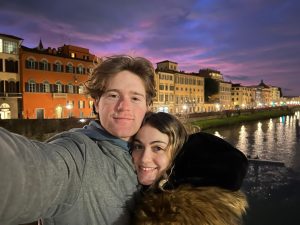 What is the best part about studying abroad together?
The best part about studying abroad together is making experiences with someone that is very special to you and knowing that we will be able to look back on the memories we are making in the future. We are planning on making a scrapbook with a bunch of souvenirs at the end of the trip. We will be able to look back on these memories together in the future and remember the great experience we had that not many people get.
What is the hardest part about studying abroad together?
The hardest part about studying abroad together being across the world with no family, it is just us two. As much we love spending time together, it is still difficult to not see our families for such a long time.
How do you spend quality time together?
When we have free time, we try our best to visit as many sites as we can, go on trips, eat delicious meals together, and overall just enjoy each other's company while we do all of the typical study abroad activities. We also enjoy staying in together, spending time cooking meals, watching movies, and staying cozy on the couch.
While in Rome, have you experienced something amazing together?
Since we arrived in Rome, the whole experience has been amazing. From the night before our flight until today, there has never been a dull moment. Our favorite experience together in Rome has been taking pictures at every sight that we have been to and looking back at them and remembering what we have done. Some of our favorite places have been The Trevi Fountain, Vatican City, and Villa Borghese which is an amazing park.
What is some advice you'd give to other couples who want to study abroad together?
Some advice that we would give to other couples who want to study abroad together is to try to make your schedules line up to make it easier to spend time together during such a busy time. Be strategic when planning your class schedule to ensure you have enough time to explore and go on getaways without missing any class. For example, all our classes are on Monday and Wednesday so that we have a four day weekend to explore! So far this has been amazing to take advantage of. It is certainly going to take time to transition and get used to being in a different country with a completely different way of life, all while trying to navigate how to make time for classes, social activities, travel, and quality time as a couple. Our key advice is time management so that you are able to take advantage of all the opportunities you have while studying abroad.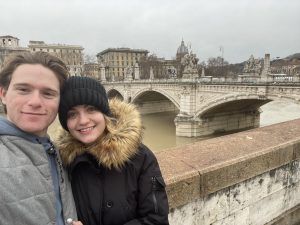 How has it been navigating a new culture together?
In the beginning, it was very weird and something that we were not used to. We didn't know who/how to approach people, how to get around, the traffic, the nightlife etc. It was a huge change from what we were used to, but after time we have gotten used to it, and now life here is normal for us.
What is your favorite restaurant in Rome?
So far, our favorite restaurant has been a very interesting underground place called Gattabuia. The food was amazing! We found it by accident wandering around one night and it was great! As well, the famous pasta place called Osteria da Fortunata and the food was amazing. They make the pasta in front of you. It was very fun! Our favorite place to get pizza in Rome is Peppo al Cosimato, which we also stumbled across by accident.
What is your favorite museum?
Our favorite museum that we have seen so far was Fort St. Elmo in Naples. The climb to the top was challenging, but once we got to the top, there was an incredible fortress to explore, with a breathtaking view of Naples, including the gulf of Naples and Mount Vesuvius. In Rome, our favorite Museum was the "Rome's Galleria Nazionale d'Arte Moderna" but we still have a bunch more to explore.
What do you find romantic about Rome?
Really everything about being abroad together is romantic. The idea that we get to be in Italy, witnessing some of the most gorgeous landscapes, eating some of the best food, and knowing that we are choosing to do it together is just amazing. Our favorite romantic thing to do is to go to dinner, then afterwards go for a walk around different Piazzas while we try to find new attractions that we will like.
Have you found a favorite food?
Our favorite food actually comes from Naples, "Pizza Fritta" or fried pizza. We were in Naples for 3 days and we got it 4 times. We cannot wait to go back and try it again! Our favorite food in Rome, not surprisingly, is pizza and pasta. Our favorite pizza is margarita and carbonara is our favorite pasta. Mikah also really likes the amatriciana pasta.
What has been your favorite thing to do in your free time?
In our free time we like to go to walk to different sites, and when we do this, not only do we get to see the main attraction, but we get to see many cool and interesting things on the way. As well, we like to go to the flea markets that they have on Sundays. They close off a road and have hundreds of tents with many different items for sale for a great price. We like to go there.
Mikah and Shlomo are studying abroad with SAI Rome from Muhlenberg University and Queens College.