April 5, 2023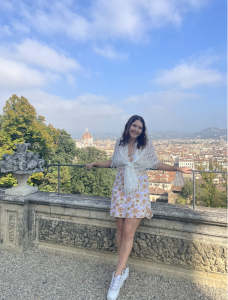 There is a common stereotype that students who study abroad come back claiming to be a "whole different people." While I do think that this stereotype is over-dramaticized, I can say with absolute certainty that I have grown quite a bit as a person due to my experiences abroad.
I studied in Florence, Italy at Florence University of the Arts. During my time there, I was shaped as a person in many ways. I gained a lot of knowledge of cultural differences, providing me with insight into my own country's customs. I was fascinated with how intentional and refined so many aspects of Italian culture were. For example, I learned about how individuals in Modena have refined their balsamic vinegar making process over hundreds of years. In a class, we were able to taste extremely expensive balsamic vinegar and learn about how individuals dedicate their life to the craft. I was also fascinated with how old everything was because I had thought structures from the 1800s were basically ancient. In Florence, I heard things built in the 1800s referred to as "new." This makes sense considering the hub of the city, the Duomo, was completed in 1436! Overall, my experiences abroad truly shaped my perception of history, and it helped make me feel more connected to the people of the past. But this is just one area of growth among so many. It's hard to even list all of the things that I learned this past semester. In the future, I truly hope to live abroad, perhaps in Florence or somewhere else. I have gotten a taste of how big the world truly is, and I wish to continue to explore it! 
I credit an enormous amount of personal growth to my time abroad. I was super nervous, as many students are, because I did not know anyone going into my program. Upon my arrival, I was able to overcome many of my anxieties pretty quickly. I met a community of people who I am still in touch with today. Additionally, I was able to connect in the local culture and found it to be extremely rewarding in both the short and long-term. I was able to pick up several essential Italian phrases and always felt like I had the resources necessary to communicate with those around me. More than anything else, I felt this experience provided me with a greater perspective of my home culture as well as all of the various around me. To anyone considering studying abroad, I strongly recommend it. It can be an overwhelming process, but you are never alone. My home university provided me with a lot of support for connecting with SAI and preparing for my courses to transfer. SAI helped me with the application process, securing housing, obtaining my student Visa, and flight information before my departure as well as providing a number of resources for me while I was living in Florence. My teachers were always happy to provide recommendations for restaurants, hair salons, post offices, and any other community resources I might need. Arguably most important, the friends I made provided me with constant emotional support and companionship as we experienced the journey together. If you are on the fence, I want to leave you with one closing thought. I have never met anyone who has regretted studying abroad, but I have met many, many people who have regretted not going.