March 15, 2023



I am currently about one month into my study abroad semester, and I genuinely can't believe how fast time is going. Living in Barcelona has been such a refreshing, needed, and fun experience. Taking the metro every day to school, walking 5 miles every day, and having to air dry my clothes have all been so fun and different from my life in the US. Some of my favorite things so far have been a Spanish cooking class, Barcelona sunsets, and living right next to one of the most famous churches in the world.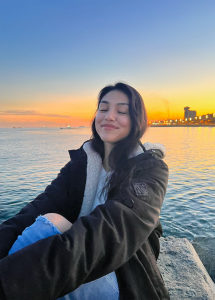 This is a photo taken at San Miguel beach in Barcelona. We had been walking around the Barceloneta area and decided to watch the sunset at the beach. I was blown away by the ultra-blue water and the vibrant colors of the sunset. The skyline with The W in the back really completes the photo. Barcelona has the BEST sunsets and they never fail to happen everyday.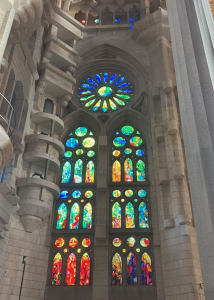 The second I step foot out of my lovely apartment, I am greeted by a grand presentation of architecture. La Sagrada Familia is one (if not THE) of the most famous churches in the world, and it is truly insane that I get to see it everyday. Last week, I went inside and it did not disappoint. If you think the outside is impressive… you will be blown away by the spectacular array of colors from the stained glass windows.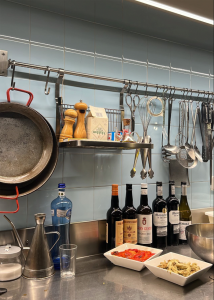 If SAI tells you they are doing something, DO IT. This was one of my favorite experiences thus far, a Spanish 3 course cooking class. We made tomato bread, bell pepper and eggplant flatbread, PAELLA (literally amazing), and crema Catalana. It was truly so fun to learn how to cook famous Spanish dishes, and you obviously get to eat it all at the end. Food is the way into my heart, so truly something that I will never forget.
Cristina is a Spring 2023 student in Barcelona from Belmont University