May 2, 2016


Ciao! My name is Olivia Mendoza and I am studying at SAI in Florence. I will be taking over the Instagram today and sharing a day in my life here. I am from Los Angeles, California, but go to school in Texas at Baylor University. This is a picture taken at Giardino di Pratolino during a spur of the moment picnic with my roommate! 
Today in my cooking class we taste tested olive oil 🌿 Olive oil is definitely better with food rather than on its own though. So far we have done gelato tastings, cheese tastings, wine tastings and have made a bunch of food! I love this class a lot! 
Florence has recently been very sunny and is starting to finally feel like Spring! Studying abroad has brought beautiful views, as well as great roommates, who will become forever friends 👭👭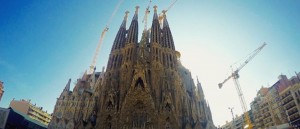 I get gelato almost every day — today I stopped by Vivaldi after my art history class because sweets before dinner is totally ok here 😏 
Walking across the Arno at sunset automatically makes all your worries go away 😌 
I'm signing off with this photo I took from my bedroom window. I love living on this street because it is lively, has great restaurants, shops and gelato! Hope everyone enjoyed a day in the life of a Florence student! 
______
Olivia is a current student at Baylor University studying at Florence University of the Arts in Italy during the Spring 2016 term.