December 8, 2016



My first week in Paris consisted of good food, interesting adventures, and GREAT people.

I met the rest of the SAI students participating in the AUP program as soon as I got to the airport. Endless to say we were all very tired after our long flights, but soon I realize that they were a group of lovely people. Afterwards, my roommates and I made our way to our new (and tiny) apartment.

The apartment is very cozy and very Parisian. The neighborhood is lovely and full of cafes and restaurants. There is also a metro stop pretty close to where we live. Honestly, it was not hard for me to get settled here. (The Parisian metro is a blessing).

If I could describe my first week in Paris with one word I would say "Tourist". My roommate Ana and I decided to get on our feet since day one. We woke up early every day and we went to the most popular and touristy places in Paris. All those "Must See" places. It was lovely! (especially since we didn't have classes that week).

Some places we went to:
Eiffel tower (of course)
Notre Dame
Shopping at Champs Elysées
Sainte Chapelle (Gorgeous… I can't really describe this place but its a must see)
Palace de la cite
Arch de Triomphe
The Luxembourg Garden (we had a lovely picnic with our SAI advisor! —wine, cheese, and good company… what else can you ask for?!)
The Louvre
Boat tour by the Seine River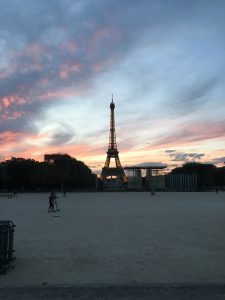 It was a great week and proof that there is no better way to get to know someone than by traveling and discovering places with them. Before this week, my roommate and I didn't really know each other, but after getting lost (at least 1000 times) we became good friends. And even better, we each found a travel buddy.