December 14, 2016



Part 1: An interview with Jennifer Wright, SAI Paris Program Coordinator 

I recently had the pleasure of interviewing Jennifer Wright, the Paris Program Coordinator for SAI, over Skype. I had tons of questions about dual citizenship, including the process, strategies for adaptation, and both personal and professional inquiries. Jenn went above and beyond while answering all of these questions. I highly suggest sticking around in the hopes that your questions and interests are answered and explored below.

Jenn got her first taste of Paris when she moved there for graduate school at the age of 25. Her interest for studying internationally was piqued when she lived in Japan and taught English for a year right after completing her undergraduate degree in economics and business. Currently, she is working on her PhD in political science at the University of Strasberg in her free time. Besides studying, Jenn enjoys travelling, trying new cuisine (you could definitely call her a foodie), running, reading, and learning new languages. As of right now, she is fluent in English and French, and has differing levels of proficiency in Spanish and Japanese.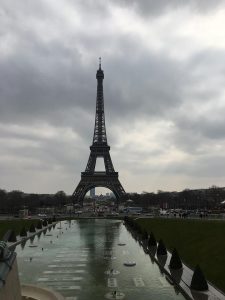 Today, Jenn is a dual citizen in the United States and France. She officially received her French citizenship about two and a half years ago.  I had general questions about why Jenn chose to be a dual citizen and how the process worked:
Katrina: What initially got you interested in becoming a dual citizen?
Jenn: I had been in France long enough to be eligible to apply. It was exhausting every year to deal with renewing my immigration card and having to show up with all of these documents, so I thought, "why not just apply?" Also, it gives me advantages such as equal rights and voting. Having a dual citizenship opened up more opportunities and gave me a permanent status in France.
Katrina: Was your dual citizenship decision based more on personal or professional needs? Or both equally, and why?
Jenn: It was based on both equally because both are related. You are more easily employable with a dual citizenship. My first company had to sponsor me for a working visa, but it was not very stable as a situation because my citizenship was based on my visa and my visa renewal was based on being employed. Looking for a new job as a French citizen is much better than being a foreigner looking for a sponsor. And with this citizenship, I can live and work in any country in the EU.
Katrina: What are the requirements for becoming a dual citizen in France?
Jenn: You must live consistently in France for 5 years, pay taxes every year, speak French fluently, have a certain level of education, and be up-to-date with government information. You also need to have a good profile and keep up with your legal status.
Katrina: What is the process and time for becoming a dual citizen like?
Jenn: Long and slow. After I got all of the paperwork and documents together and applied, it took about six months, which is normal, to hear if I was accepted or not.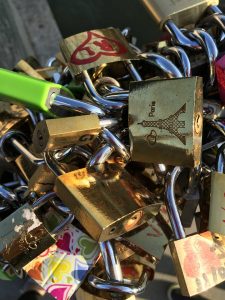 Katrina: What advice would you have for anyone considering becoming a dual citizen?
Jenn: Be very, very patient because it is definitely worth it. Having a minimum of master's degree helps and paying taxes looks good. Being from the U.S. makes for an easier time, especially because English speakers are more employable for certain positions.
Katrina: Which country were you in during the application process?
Jenn: France. It looks bad if you leave during the process, but you can still travel. It looks bad on your application if you are waiting to get nationality of that country and then leave. They think, 'Why would you want to leave?'
Personal experiences are always the most interesting and humanizing:
Katrina: What made you choose this country to have a dual citizenship in?
Jenn: The idea of learning French drew me to the culture because it is a useful international language to have. Paris is a beautiful, very diverse, very lively city. The city and culture are what really drew me to France.
Katrina: How has your knowledge of the language progressed?
Jenn: I didn't speak any French when I moved to France. It's true that living in the country makes a big difference in learning the language. I basically learned French self-taught by meeting and socializing with French people.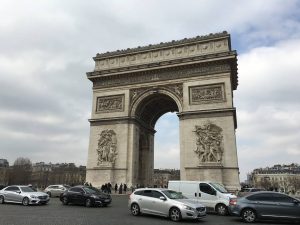 Katrina: How long did it take for you to pick up the language?
Jenn: At six months I had a low level of fluency, and by one year I was completely fluent.
Katrina: What tips do you have for picking up the language quicker?
Jenn: It is key on how you spend your time here. I think study abroad students who are here for only a couple of months have a really difficult time because the schools that they are attending are speaking in English and the other students around them are all fluent in English. One thing that would help, although currently not offered in Paris, would be to do a homestay of some sort. You have this family there with you, and you wake up and are kind of forced to assimilate into that family where everyone is speaking the language and you have to as well. That's the whole point of it; being aware of how much time you are actually spending on the language and creating opportunities for you to actually use it.
Katrina: What previous knowledge of the culture did you have before becoming a dual citizen?
Jenn: Prior to coming to France, I knew nothing about French culture. I came with an open mind and I had these ideas of what it would be like. For me, learning the language was part of my goals. It wasn't just to come to grad school. I think you can never fully understand a culture or its people unless you speak their language. I also travelled like crazy and also made an effort to travel within France in order to have a better understanding of France. Once I started traveling to smaller cities in France, it opened my eyes.
Katrina: How are you politically involved in both countries?
Jenn: I vote in both countries. As a political science student it is an interest of mine to follow politics. The first time I could vote in France was a year ago. Being a U.S. citizen abroad, I still have the right to vote in the U.S., so I vote through the mail in Oregon. I vote in both federal and state elections.
Katrina: Where do you live in both countries (type of home plus housemates)?
Jenn: In Paris, I live in the 12th district, which is near Gare de Lyon, which is a major train station. It's pretty central and getting around Paris is pretty easy.
In the States, I have lots of relatives in Oregon, but my home base would be my brother is Portland. My mom lives in Kansas City, Missouri and my sister lives in San Diego, so I spend my time between Portland, Kansas City, and San Diego.
I live in an apartment in Paris. I've been in the same apartment for seven years now and I live alone.
Katrina: Is it financially difficult to live on your own?
Jenn: It's different in Paris if you were to compare to a place like New York. In New York, it is not affordable to live on your own, but I feel like there's more small apartments available in Paris, where as in New York there are two bedroom apartments everywhere. It's way easier to live on your own in Paris. Roommates are more of an American thing.
Katrina: Do you ever rent your apartment out while you are away travelling?
Jenn: I have a few times, but it's always through people I know. I've never listed it on a website or anything.
Katrina: What kind of traditional recipes have you picked up?
Jenn: I've learned how to make a good steak where the sauce is marinated with red wine and onions. I can make tartiflette, which is a casserole with potatoes on top, and crepes. And I love all of the cheeses. I've adopted lot of their customs, such as during the holidays we buy oysters and drink champagne, but especially on the 24th of December.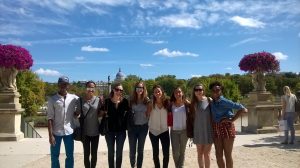 Katrina: What are some of the differences in dining out and food shopping between the two countries?
Jenn: I can't ever go back to the American way of dining again. Going out to dinner here is like a two- or three-hour thing and you take your time and eat well. For family dinners in the U.S., you prepare this big meal and everyone sits down together, but fifteen minutes later people are done and ready to get up from the table. You spend way more time eating, and you also don't tip in France.
Being in a big city, we don't have the supermarkets that are in the U.S. There are much less choices here at the supermarkets. Things are more simple and less overwhelming in regards to consumerism. You would normally go grocery shopping once or twice a week here. In between times, you would go to smaller shops, such as cheese shops or bakeries. You buy smaller quantities more often than you would in the U.S.
Katrina: Do you have any family abroad, whether in France or any other country close by?
Jenn: No, I do not. Everyone is from the US.
Katrina: What connections or friendships did you have in this country before becoming a dual citizen?
Jenn: Before I came to France, I only knew one person, who was a good friend that I met in Japan. Other than that, I came not really knowing anyone. After living here for five years, by then I had made a lot of really close friends.
Katrina: What resources did you use or who did you go to for help/personal issues?
Jenn: My school a little bit. They provided information on immigration and were a good resource. Other than that, you start meeting people and using word of mouth. French friends that I made in the beginning ended up being a great resource for finding an apartment, renewing metro passes, and things like that.
Katrina: How did you build your social networks/ friend group while abroad?
Jenn: The people that I met and friendships that I made helped me to grow my network.
Katrina: Do you ever get homesick?
Jenn: Sometimes.
Katrina: How often do you come back to the United States?
Jenn: On average, once per year. Because of paid vacation time, when I go home, I get to go home for several weeks at a time and spend real quality time with family. If I was living in the U.S., I wouldn't necessarily be living in Oregon and have that same amount of vacation time, so I probably would be seeing my family maybe more frequently but in the end for less time.
Katrina: Does your family ever visit you?
Jenn: My brother has been my most frequent visitor. My mom, brother, sister, aunt, and uncle have all been. When they come, they come for maybe ten days.
Katrina: When was the last time you were in the United States?
Jenn: I was in Kansas City at the end of May in between semesters when I had no students here. At the end of this year, I'll be in San Diego staying with my sister. She's having her first baby, so I will be here for the birth, as well as for Christmas and New Years.
Katrina: How has becoming a dual citizen changed you personally?
Jenn: It gave me international options permanently. I feel that I am more of an international citizen, as opposed to being 100% American. It opened up other doors that I know in the future I have other places to go and to easily move to, find a job, and be legal.
—


Katrina Syrakos
Fitchburg State College
During this past Spring semester of my sophomore year, I spent my time living, learning, and interning in Sorrento, Italy. SAI presented me with the opportunity to intern before I was even aware that it was an option for me. Everything that SAI was involved in made my transition to living in a foreign country more manageable and enjoyable. Even the roommate pairings were perfect!
The courses that are offered at Sant'Anna Institute immediately stuck out to me during my search. I am a criminal justice major and was both thrilled and surprised to discover a course centered on international crime.
Because of my semester abroad, I have formed countless relationships with students from all over the United States, as well as with many local Italians, and other Europeans through my extensive travels. I now have the confidence and skills to interact with all kinds of people in all kinds of places. Studying abroad is an irreplaceable experience and I look forward to helping other college students get the most out of their semester(s) abroad.