May 11, 2017



Part 2: An interview with Jennifer Wright, SAI Paris Program Coordinator
Professional Perspective.


This article is a sequel to the personal perspective of dual citizenship through the eyes of a French and American citizen. In case this is the first one that you are reading, I will give a short summary to catch you up.

I recently had the please of interviewing Jennifer Wright, the Paris Program Coordinator for SAI, over Skype. I was interested in how personal and professional perspectives related, but also how they differ. Jenn exemplified many instances where the two overlap, and provided deep insight into the professional world of France from the standpoint of a newcomer and then as an insider. Whether considering a dual citizenship or not, the detailed answers that Jenn has given to all of my questions are helpful in regards to working abroad or working for any company in general.

A majority of my questions about professionalism abroad revolved around how one can prepare for the experience as early as possible and how difficult it is to make the transition between companies:

Katrina: Are there any specific degrees or concentrations that someone is required to have to work in another country (i.e. graduate level, language studies)?

Jenn: I would say that there are some that help, but in the end the attitude and the outlook of the person moving abroad is the most important thing. Studying international affairs or international relations would really help. Someone can study a language and no matter what country they end up living in, just being open and having your brain accustomed to learning a language will help you then study another language. So language studies do help, but I think it's just the mentality of the person and how open they are to understanding another culture. You can study international relations in the U.S., but then if you move to another country and you're so scared to come out of your comfort zone and practice another language go out and do things and push your limits then you're never going to be able to fully embrace the culture.

Katrina: Would studying abroad in college help you on a resume?

Jenn: I think it definitely would help on a resume. It shows, whether you were fully open or not fully open, that you were willing to take the leap and move to another country for four months, which not a lot of people would be comfortable doing. Having that on your resume will always be a positive thing.

Katrina: How did you apply your degree and past experiences to your job abroad?

Jenn: There is some overlap with my masters in international relations and my personal experience going to grad school abroad. I would say that my experience moving to France is what prepared me to then help students coming to France because I went through exactly what they're going through.

Katrina: How did you apply for the job that you have now?

Jenn: I heard through a friend that SAI was hiring, so I sent in my resume and cover letter to my direct boss who is actually in Rome. She set up an interview and after that I was hired.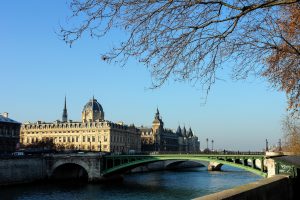 Katrina: How did you adapt to this new job?
Jenn: Any time you switch to a new company, you have to get a feel for that culture. I hesitate to say work place because right now I am working on my own. But for the overall work culture of SAI, it was seeing how they prefer to do things compared to the previous study abroad program that I worked for. I think SAI is more organized and professional than my previous position, so that really helps. Although, it was kind of challenging in that I didn't have anyone to lean over across the desk and just ask something. I had to figure out things on my own even though SAI is great and I can easily contact anyone in Italy or even in the California office to get an answer for anything that I need to know.
Katrina: Were you a dual citizen at the time that you began working for SAI?
Jenn: Yes.
Katrina: How did your dual citizenship affect your job application process?
Jenn: At the time, they were only looking to hire dual-citizens. They were not looking to sponsor someone for a working visa. Had I attempted to apply for this position prior to acquiring a dual citizenship, I am not sure that I would have gotten it. It's less risky for the company to hire someone who's already a dual citizen.
Katrina: Were there ever any issues with having references back in the United States that needed to be contacted by any of your French employers?
Jenn: I moved here and I became a student and then I had a couple internships here so nobody had to get in touch with my previous employer in the US. I feel like today, with everything being so international, agencies can make international calls or send an email, so I don't see that hindering anyone from getting hired.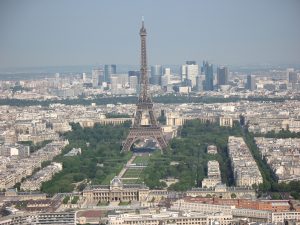 Katrina: What are your specific job requirements with SAI?
Jenn: I am the on-site program coordinator for Paris. I handle everything that pertains to this program. Speaking the local language also is a requirement for being hired at SAI. Helping students with issues, I need to be able to speak the language or else I wouldn't be able to fully do my job here. I handle the relations between our partner schools here and with our housing agency. I'm the emergency call person so our students can call me 24 hours a day if anything comes up. I do administrative tasks, such as accounting and reconciling all of the expenses for the month, including payments for student activities, office supplies, anything that is related to my activities here. My duties also include a little bit of helping with on-site visits. Sometimes we have representatives from partner universities in the U.S. who would like to visit the schools and see SAI, so I'll organize that if they want to come to Paris. I also help put together itineraries and proposals for faculty led programs.
In addition, I plan the budgets and the activities for each semester of what we do here for SAI. I take students on different trips, and I lead different activities in the city. For example, next week I'm taking students to the theater to see Romeo and Juliet at a really old, well-known theater in Central Paris that I personally enjoy. These are the perks of the job, being able to do all these fun things with them.
Katrina: How many hours do you work per week?
Jenn: In France, a typical workweek is 35 hours, and that's what my contract is with SAI. Sometimes it's a little more when I take students on trips in the evening, but then I get to take that time off on a later week.
Katrina: How are professional practices different between the two countries?
Jenn: The French tend to spend more time in group activities and meetings than I think Americans do. I think Americans are very individualistic in their work, and the French tend to be collaborative and a little less direct. They also spend more time taking coffee breaks and chatting, a little more leisurely, but still very productive. They just have a different work style. And I think French employers are more open to you taking take care of issues that you have in your personal life, such as a being an hour late because of a dentist appointment. I don't know if the majority of American employers would allow you to show up late because of an appointment, or for your kid being sick. They would tell you to take care of that on your own time. I think the French are a little more understanding about things like that.
Katrina: How do benefit packets differ?
Jenn: Every working person in France has a minimum of 5 weeks paid vacation. In France, rules like paid vacation come from the state, so it's regulated at the federal level. Its not an individual corporate or company decision, and there's more job protection in France. Everyone has a contract and there's a lot more protections as far as firing or lettings someone go. You can't fire someone without giving them a severance package, for example, no matter what your position is.
It's a socialist country, so a lot of state services are built in with these contracts and you pay more in taxes here, and salaries tend to be much lower than American salaries because of that. But French people are not in debt. They live within their means, but they know when they retire that they'll be living comfortably. They don't need a private retirement fund set up in addition to the national one. The national one usually is enough to take care of them when they're retired.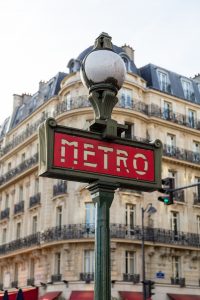 Katrina: Do you picture yourself working back in the United States at any time?
Jenn: I'm not sure. Career wise, I think there's more opportunity to be challenged in the U.S. In the short term, in the next couple years, I would say no. After that, I don't really know. It's possible, but I think it would be a shock to go back to that.
Katrina: Ideally, which country would you rather work in until retirement?
Jenn: France.
Katrina: Which country do you plan on living in after retirement?
Jenn: I will probably divide my time between France, the U.S., and some traveling. That would be perfect.
Katrina: What recommendations/advice/tips do you have for someone who would like to work abroad in the future?
Jenn: Plan ahead for getting a job because it's really difficult getting sponsored for a job here, but I think it makes a big difference as to what field you're working in, depending on the country. If you have patience and time, and can somehow come and get a legal status, you should. It's easier to find a company to sponsor you since you're already in the country than if you just apply from the U.S. Even being entry level, it's going to be very hard to find a job in Europe because there are protections that require equally as qualified EU citizens to be offered a job over the non-EU citizen.
Katrina: So is being a dual citizen the absolute most important thing to give you a leg-up in your job search?
Jenn: Yes, but I would never have gotten dual citizenship if it were not for having a working visa. So the first thing is getting a working visa and living in France legally. And doing that is finding a company willing to sponsor you for the visa.
Katrina: Did you have a specific reason for switching from your French employer to an American employer?
Jenn: No.
Katrina: What was your role and title in your French position?
Jenn: I had several titles. It was such a small program, so I was the financial aid officer of the school, and I was the undergraduate program coordinator.
Katrina: What is most satisfying for you about your job right now?
Jenn: One of the things that I really like about my job is that I get out of it what I put into it. Helping students in any way I can to get the most out of their experience here makes me feel happy. I know that the more I can help them and guide them, the more they're going to enjoy being here as well. I mostly enjoy working directly with enthusiastic young American students who are happy to be in France, and seeing Paris through their eyes again and remembering that I once saw Paris the way they did.
Katrina: What new perspectives have you brought into your profession as a dual citizen?
Jenn: Living here for nine years, it allows me to understand the system better and answer questions and help with administrative tasks. This is my home and I am like an American contact here that can be relied on to give feedback on the way things work.
Katrina: What new perspectives have your job brought to you?
Jenn: I've learned to communicate better when my colleagues are spread out throughout different countries, especially through Skype and other online tools in regards to sharing files. I've learned more about how to collaborate internationally online with this position.
Katrina: How has becoming a dual citizen changed you professionally?
Jenn: It gives me a look into both cultures and both work ethics. I have a view of both and see myself as being in between the two and having elements of both.
—


Katrina Syrakos
Fitchburg State College
During this past Spring semester of my sophomore year, I spent my time living, learning, and interning in Sorrento, Italy. SAI presented me with the opportunity to intern before I was even aware that it was an option for me. Everything that SAI was involved in made my transition to living in a foreign country more manageable and enjoyable. Even the roommate pairings were perfect!
The courses that are offered at Sant'Anna Institute immediately stuck out to me during my search. I am a criminal justice major and was both thrilled and surprised to discover a course centered on international crime.
Because of my semester abroad, I have formed countless relationships with students from all over the United States, as well as with many local Italians, and other Europeans through my extensive travels. I now have the confidence and skills to interact with all kinds of people in all kinds of places. Studying abroad is an irreplaceable experience and I look forward to helping other college students get the most out of their semester(s) abroad.