December 7, 2016



So it's officially fall in Firenze! Yes that means it is COLD, oh and rainy! Okay so it's not really that bad……. But if you plan on traveling to Florence (which I completely support), bring a good jacket and umbrella. Remember to carry your umbrella with you. If you are like me, you won't think about your umbrella until you are soaking wet walking through Florence. However, when you are dry, the showers can be beautiful! Let's just talk about how peaceful it is to read with the sound of rain outside! After a busy day, being able to curl up with a warm cup of tea and a good book and enjoy the rain is the perfect way to relax.  On a totally unrelated note, if you are studying abroad and like to read, e-books are the best! There is no way I could have brought all the books I have read back with me.

But that's enough about the rain….. I got drenched enough times that I finally remembered to replace my umbrella I broke in Capri and I now keep it in my bag! Let's talk about the cold!! It's basically freezing already!! (Okay so maybe it's above 32℉ but for emphasis from this southern girl, it is absolutely freezing!) But, the heaters in our apartment have been turned on and I bought a fuzzy blanket at Sant'Ambrogio Market this weekend so I will survive! One of the best things about the change of seasons is the change in produce available at the market. Getting to walk around and pick out the fresh veggies to cook for family dinner that night is always fun! Of course, seasonality in the kitchen always excites me.  I was extremely happy to find pumpkins at the market.  Roasting and making puree to use in baking is just the best symbol of fall to me. What would fall be without a few pumpkins?

As many know, football is associated with fall in the U.S.  Well for all you Halloween-loving-people out there, don't fret: it is still celebrated here, just not exactly the same way. If someone is dressed up, it's usually more associated with death and skulls, not princesses and superheroes. My favorite thing of Halloween has always been carving pumpkins and roasting pumpkin seeds. Well some traditions never die….. Our group started the Halloween festivities a couple of days early by carving up our pumpkins!! Yes, during the carving process our bellies were full with candy corn!

Another great thing about it being fall in Firenze is the colors! While I do live near the center of Florence which means trees are few and far between, the trees around are changing colors. If you are like me and some of my friends, while we love the city center, rich with it's history and people bustling around, sometimes you just need to be surrounded by nature.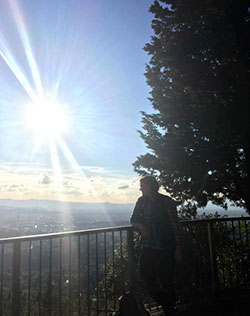 A bus ride from the center of Florence gets you within a 20-minute walk to a great hiking area called Monte Ceceri. However, make sure you get on the correct bus.  If you don't, you may end up an hour and a half in the opposite direction. It was just an unsuspected adventure and after a little regrouping we arrived and started the planned part of our adventure. As always, Italy never ceases to amaze with the views! We walked through beautiful areas. Anyone who read my "get to know me" blog knows that I love to hammock and I brought it with me when I moved to Florence. On this hike I finally had an opportunity to hang up my hammock!
Let's see…what else has been happening during this fall in Firenze?  Oh yeah– I guess I am here studying! Last session, we had a gelato and wedding cake class. Both were so amazing! Even with the temperature dropping, (Have I mentioned it's getting cold?), it is never too cold for gelato.
We are getting ready to wrap up our third session, which includes a class on international cakes! I am having a great time learning from the amazing chefs!! I cannot believe that I only have one month left in the Masters program.
This whole experience so far has been a dream! I still believe my time in Italy is a time of baking my dreams come true, and it just seems to be flying by. Okay Brooke stop getting sad you still have so much more to experience in Florence. So let's focus on what's next. Next week is Thanksgiving and while I do justify listening to Christmas music early because I'm in Italy and the whole waiting till after Thanksgiving rule does not exist here. That being said we are still gonna celebrate Thanksgiving with a Friendsgiving!!
Speaking of what's left to come, I have to mention Florence getting covered in twinkly lights!!!! I love wandering around the city and seeing the beautiful streets of Florence, but I can't wait for them to feel magical with Christmas spirit (yes I am listening to Christmas music right now and getting excited). So while yes, I realize my time in Florence is dwindling, there is still so much to do! Fall in Firenze is just a start. I can't wait to see what the next month holds!
___
Brooke is a current student at University of Alabama studying at Florence University of the Arts in Italy during the Fall 2016 term.