February 14, 2018



This Valentine's Day, we wanted to do something special. We interviewed two SAI alumni, Stephen and Katherine, who met while they were studying abroad with SAI in Rome, in Fall 2011. We asked them some questions about their love story and they also gave some really great advice for those studying abroad! Stephen and Katherine got married last month (YAY) so read on to learn how they met, maintained a relationship after returning home, and what got them to where they are now!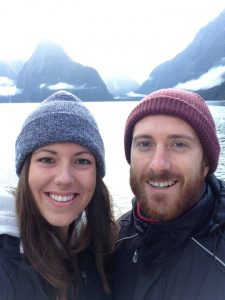 Katherine: Love at first lunch? Stephen and I first met when we happened to be sitting right next to each other with a group of new friends at lunch on our second day in Rome during a break at SAI's orientation. Conveniently, I scared Stephen off when sharing a pizza with my roomie, in which case, he jumped at the opportunity to leave his place next to me. Since that day, our groups of friends became besties, and so did we. Fast forward through the best four months of our lives… and we continued our friendship? at Saint Mary's College.
Stephen: First off, if you've met Katherine, she's pretty scary. Just kidding, I wasn't scared at lunch, I was being nice. It may have been love at lunch for at least one of us… Katherine didn't come around until many a lunches later at Saint Mary's.
K: Stephen's blue eyes, big smile, and luscious beard soon became irresistible. We started dating soon after returning and finally made it official six months after returning to school and soon found out that each of us was secretly just as weird as the other.
S: Katherine and I had a class together. That doesn't necessarily mean I ever saw her at school. I knew it was going to be a good day when she did grace us with her presence in class, with her beautiful smile, button nose, and unique laugh (or should we say cackle?).
K: After graduation, Stephen traveled to Pittsburgh and Chicago for work, where I was able to visit him. It satisfied our travel bug (at least for a little while). We soon craved a break from work and school so off to Australia and New Zealand we went!
S: Rome was a blessing and a curse. After being given the opportunity to travel, it became harder for both of us to stay in one spot for too long, so we went down under! It was amazing! – from living on the beach in Bondi, Aus, to living in a Buddhist temple in Auckland, NZ and everything in between – we truly did it all!
K: Stephen completely surprised me when he proposed right before leaving NZ to come back home :) I said yes!
S: It is safe to say Katherine had the easy part in this process. Ultimately, it was all worth it with the final "yes!" Not to mention the avoidance of an awkward 14 hour flight home with a "no."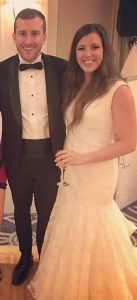 It is crazy to reflect on how one decision can affect the course of your life – and for both of us – that decision was to studying abroad in Rome, Italy through SAI. Not only did we find a life partner, but we found friends for life who we fly across the country on a constant basis to keep up with!  Stephen has luckily returned to Italy to complete a course in his Master's studies; he said it just wasn't the same without our group of SAI friends that we maintain to this day (and are even still roomies with one!) One day, I hope to return with Stephen. We got married on January 20, 2018 and some Rome friends were even in our wedding party! We got married at St. Mary's College and had our reception at a hotel nearby. It was the official "Rome crew reunion" and had friends fly in from Boston, New Jersey, Philadelphia, Chicago, Austin, New Orleans, and more! So fun to come full circle.
Our advice to those studying abroad would be to branch out from your friends that you may be going with from your college and be open to meeting new people through the program, locals, and new classmates! Travel to nearby countries but don't spread yourself too thin and get to really know Rome and deepen your friendships you are making there too! Say "yes" to any new opportunities even despite the fact you will be exhausted, and probably scrambling for money for that delicious lunch or next adventure. It will be worth it! And the joy and memories you create there will last a lifetime. (Be prepared for the depression that sets in when you return home – that's when you cling close to those newly formed friendships!) I think we are all now "Romesick" for life.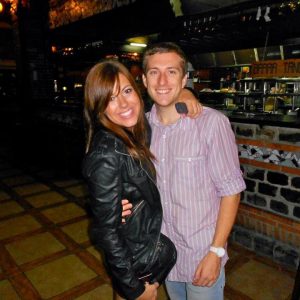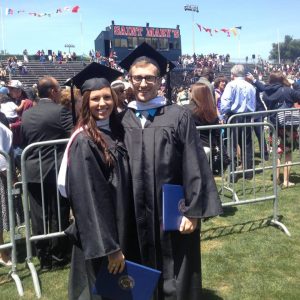 – Katherine and Stephen studied abroad with SAI Rome in Fall 2011 from St. Mary's College of California