November 14, 2023



While studying abroad at Sant'Anna Institute in Sorrento Italy, I have learned that Gnocchi alla Sorrentina is not just a comfort food, but it has ancient roots as well. This gnocchi is a typical dish of Naples and you can find it all across Italy. Gnocchi is made of potato and according to tradition, it originated from Campania. The word gnocchi has a Greek influence and derives from the word "strogulos" and "preptos", which means a round or spherical object. We can see the appearance of gnocchi back in the Renaissance time. The way gnocchi was originally made during that time, is very different than how it is now. It is thought that over time, as various countries started sharing produce, such as potatoes, gnocchi was reinvented.

The name, Gnocchi alla Sorrentine, is due to the cooks in Sorrento who seasoned this dish using spices and products from the Amalfi Coast. The basic flavors within this dish are tomato, mozzarella, and parmesan. Its not just the produce itself, that gives the gnocchi such a good flavor, but it is the fact that the produce is organic. The organic food found in Italy allows you to taste the true flavors of a dish. If you want to try and make this dish at home, it is best to find ingredients that are fresh and locally sourced. You can do this by going to a Farmer's market. If there are no Farmer's markets near you, you can just get the ingredients from a natural food store.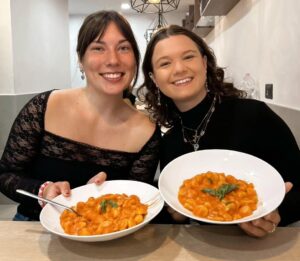 Ingredients For Gnocchi
• 2.25 lbs Yellow Potatoes
• 2 2/3 cups flour
• 1 Medium Egg
• Fine Salt
• Semolina
Ingredients for Tomato Sauce
• 2 1/3 cups Tomato Puree
• 6 leaves of Basil
• 1 Clove of Garlic
• Extra Virgin Olive Oil
• Fine Salt
Ingredients to Garnish
• 0.5 lb Mozzarella Cheese
• 2/3 cups Parmigiano Reggiano PDO Cheese
• Basil Leaves
• LOTS OF LOVE
Preparing your Gnocchi
1. To make the gnocchi alla sorrentina, the first thing you need to prepare is the potatoes. Wash them under water and remove any dirt or debris. Once they are clean, place them in a large pot full of water and cook them for 30-40 minutes until the potatoes are soft.
2. Next, you can start to make the sauce. To make the sauce, you will need to add a drizzle of oil to a pot along with a whole clove of crushed garlic and tomato puree. The puree you can make using fresh tomatoes or store-bought if needed. Then, season the sauce with salt and pepper to your liking. After the sauce is seasoned, add in 6 fresh basil leaves and cover with a lid. The basil will develop a strong flavor and soak into the tomato puree. Leave the sauce to cook on medium/heat for about 30 minutes.
3. While the sauce is cooking, drain the potatoes and peel the outside skin off. Once the potatoes are peeled, sift flour onto a pastry board and create a well. Using a potato ricer, press the potatoes out into the well of the flour. Make sure the potatoes are still warm when doing this. Then, you will start to knead the potatoes and flour together to create a dough. Some people add eggs to the potato mixture to help it stick, but this is not necessary.
4. After you make the dough, bring a large pot of water to a boil. While you are waiting for the water to boil, cut the dough you made into equal portions. Roll each portion into a cylinder "rope" shape, around ¾ inch to 1 inch thick. Use semolina to keep the dough from sticking together. You can use a gnocchi board or prongs of a fork to make the classic ridges on the gnocchi, but it is not necessary. Once the gnocchi is cut, add it to a bowl and sprinkle some more semolina, and mix so they don't stick together.
5. Now that the gnocchi is ready, remove the garlic chunks from the sauce and pour ¾ of the sauce into a large bowl.
6. Next, you will boil the gnocchi in a pot, doing it in batches. They will only need to cook for a few minutes, and once they rise to the surface, they are ready. Then, drain the gnocchi and add them to the bowl with the sauce.
7. Stir the gnocchi and sauce gently with a spoon.
8. Pour the ¼ of sauce left into a baking dish and ½ of the gnocchi. Then, add a drizzle oil and a layer of diced mozzarella and parmigiano over the sauce.
9. Then pour the rest of the gnocchi into the baking dish and add a final. Next, you will add a final layer of diced mozzarella and Parmigiano to the top of the pasta dish.
10. Cook your gnocchi alla sorrentina in an oven preheated to 480°F for 5 minutes. Then the dish is ready!
I have had gnocchi many times before studying abroad in Sorrento, but never gnocchi alla sorrentina. I had the ability to make this dish, the way I described above, a few weeks ago at a cooking experience called QUI Sorrento. It is a simple dish to make, and tastes so much better when you eat it fresh. After making this dish, you will learn that although there are a lot of steps, it doesn't take that much time. Enjoy your gnocchi alla sorrentina!
Written by: Cidney, Fall 2023 Sorrento Student, from University of Mary Washington