June 2, 2023



Interning at Il Vilaggio dei Popoli has inspired me in many different ways. I have gained new insight as to what fair trade is, why fair trade is so important to human rights, and the social and environmental impact that fair trade holds. Before studying abroad, I had never learned about fair trade or even knew a whole lot about what it is, but now I have gained such an understanding and have developed a passion for basic human workers' rights. Through gathering information and researching certain missions and companies I have been able to see the enormous positive impact that men but especially women receive in the third world companies that Altro-Mercato supports who are treated properly.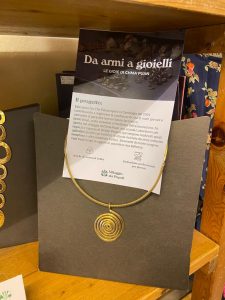 For example, a research project that stuck with me is the mission of I Was a Sari. They see the world differently by giving women, whom many people view as uneducated or unskilled, a chance to transform their lives and prove that statement false. They see their potential to become wage earners and leaders in their community. They receive medical, financial, and emotional support outside the work environment along with taking English and soft skill classes. These women are now able to know and see that they are worthy human beings and not just a woman in poverty taking care of their families. I Was a Sari who believes in second chances and that is beautiful. Many of you might not know how many people are mistreated throughout the world in their work fields whether that is being underpaid, excruciating work hours, basic working conditions, or being treated as an equal. But I can tell you that sadly mistreatment is too common today and companies like AltroMercato join a force to put this to an end. Il Villaggio dei Popoli highlights the companies and projects that represent what a business should be.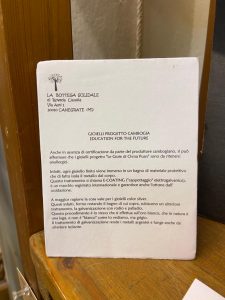 Not only have I developed a strong passion for this topic, but I have also gained valuable experience in research methods, marketing strategies, sustainability, ethics, justice, and lastly how to adapt and immerse yourself within a different culture than you were brought up in. This has truly been a valuable learning experience and I am proud to be a part of a company that is so passionate and dedicated to making the system more just.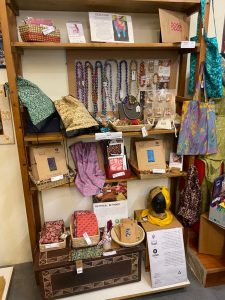 Written by: Mercer, Spring 2023 Florence student, from Miami University