June 2, 2023



During my semester abroad I took advantage of pursuing my lifelong dreams of traveling all around Europe. My program was focused in Rome and I knew I wanted to pick a city that had a major airport nearby for the ease of traveling as well as its own history and beauty. Just to say the least, FCO airport and I got to know each other very well. I was able to travel to thirteen different countries and twenty-three cities! Of all the places I have traveled on this journey, my top five places have been Amalfi Coast in Italy, Mykonos and Athens in Greece, Budapest Hungary, Amsterdam Netherlands, lastly Interlaken and Zurich Switzerland. Here are some tips and favorite things from those trips:

Amalfi Coast we took a train from Rome into Naples and then took a ferry into Sorrento. Sorrento is where we book our stay, through Airbnb. From the port in Sorrento we took a taxi to where we stayed, unfortunately most taxis only took cash, so I definitely recommend having cash with you at all times! In Sorrento the town is so quaint and beautiful! We went to Positano, another city on the Amalfi Coast. We picked up sandwich materials for lunch to make on the public beach. The beach was down over 100 steps, what a leg workout! We swam in the Mediterranean Sea and the water was so beautiful and the views when looking back at the beach with all of the cliffs, it was an unforgettable moment. We then headed into the main city, walked around and went to the famous TikTok shop CB, got dinner while watching the sunset on the beach! Positano is one of the most unique places I will ever travel to with every turn you make being a stunning view. Then on the third day of this trip we booked a semi-private boat tour through Get Your Guide! It was truly an incredible day. The weather was perfect so we got to tan while boating around seeing all the different views and the grottos! The Blue Grotto was especially one of a kind, but definitely again have cash because that is the only Grottos that has a fee! The tour brought us to Capri and we had lunch there and walked around the beautiful city!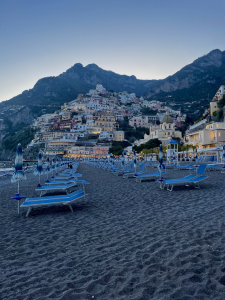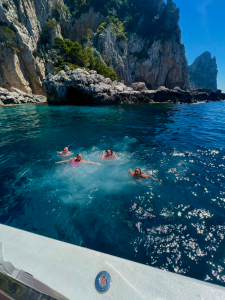 Next up is Greece, most young girls dream of a vacation spot. Let me tell you now, it lived up to every dream I ever had of it. Before coming abroad it was my top destination to go to! For transportation there we flew into Athens and then caught another flight into Mykonos but they also run cheap ferries! We stayed in another Airbnb, in the Little Venice part of Mykonos which is one of the most popular areas! This was definitely a more relaxing trip where we ate some great Greek foods like Gyros, Mediterranean salads, and of course Baklava! While finding the nearest beach and laying in the sun during the day. The weekend we went there was the Greek Orthodox Easter which was an amazing event to witness! On the night right before their Easter Sunday, the streets were filled with people dressed up and holding candles in preparation for the ceremony and celebration. As soon as the clock struck midnight there was a fireworks show off the water and singing! The town was completely lit up, it was the most beautiful thing. One more thing I noticed about Greece is that the people are the kindest people I have ever met! Could have an hour long conversations with anyone that we came across! Was definitely hard to leave when it was time for our flight back to Athens, we had a couple hours in between flights so we got to see the Acropolis and have one last Gyro!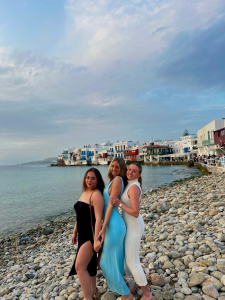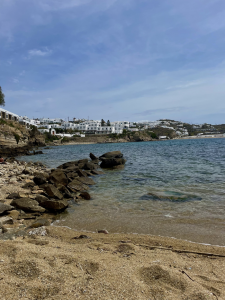 Now for city trips nothing beats our Budapest trip! We flew into the major airport and then used public transportation to get all around the city! Their system was one of the most affordable and easy of all the other trips. The name of it was BudapestGo! They had a three day pass for any public transportation that was only around twenty Euro. For this trip we stayed in a hostel, Wombats, I highly recommend it was in a great location and was well kept! The architecture of the city was remarkable and so unique there are so many different castles but my favorite spot was Fisherman Bastons, I could have stayed up there all day! Have to get the famous chimney cakes while up there! Budapest is known for great night life as well as other great attractions and we took full advantage of it. We took a trip to the Szechenyi Baths, it was extremely relaxing and very cool. We then booked ourselves a boat tour up and down the river with bottomless Prosecco. Got to take in all the beautiful views at night with the lights on. Truly a core memory I will take for the rest of my life.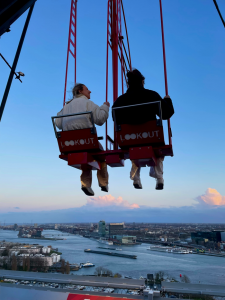 Second city trip at the top of my list would be Amsterdam! We had a flight from FCO into Zurich and from Zurich to Amsterdam! Then we took the train to the nearest station to our hostel! They also have a great transportation system! Got a two day pass for about fifteen Euro, but for passes to and from the airport it needs a specific ticket! One of the main attractions in Amsterdam is the A'DAM lookout point and swings! It was worth every second of it, the views are unforgettable, we were able to schedule our swing time at sunset! Another great attraction they have is the boat tour through the canals of the city. There are different options of boat tours, it would just be a get on and ride or it can also have food and beverages. This city has some resemblances to Venice, Italy with all the different canals and not a lot of cars! Most people ride bikes around the city as their main transportation. It was so cute!!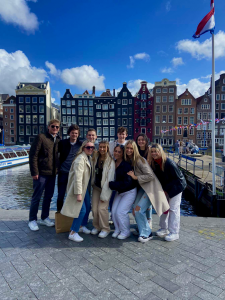 Last but certainly not least would be a more rural trip, Switzerland! We flew into Zurich and walked around the main part of town, went to this cute park area where the view is of the whole city. We then booked trains to and from Interlaken, this is an incredible town in the valleys of Lake Thun and Lake Brienz. We stayed in a hostel right in the center of the town called Balmers, they offer great excursions like late night sledding and fondue as well as paragliding! We had booked Paragliding but unfortunately it was canceled because it was snowing and there was no visibility. We were devastated because the view from up there while soaring through the sky would have been unbelievable. The town of Interlaken is extremely walkable so we walked into the other side of town and went to the well known Funky Chocolate shop and ordered some fresh strawberries with melted swiss chocolate on top, as we sat there indulging we researched some other fun activities we could do! Some were booked up and others were canceled due to the snow, but none of us were angry about the snow getting to see it actually snow in Switzerland is a dream! Then we heard these girls in the hostel we were staying at talking about this very high end spa in the hotel up the street, so we go check it out and book ourselves a massage and all access to the spa! This was truly what we needed from all of the travel we had just done the week prior from it being Spring Break. There was a hot tub that was outside looking out at the mountains surrounding us and the added touch of the crisp air and snow falling made it so comfortable, we could have stayed there all day! Of course while in Switzerland we have to have the fondue so we ended the night with the fondue dinner, it was yum! Then the next must see is the lake to get to see the insane view of the crystal blue water alongside the snow capped mountains. With the added touch of log cabins in the distance! This trip was unique in every aspect and Switzerland is a place I would recommend to everyone to see once in their lives!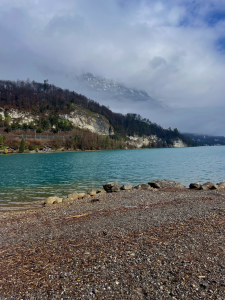 With all the tips, stories, and memories I just relayed off. I just recommend that you take full advantage of being in Europe the best you possibly can! Make your own stories, tips, and memories while traveling to the places you have dreamed about and to cherish those moments while you are in them, they go fast. Do not be afraid to be yourself, you will find the right people for you no matter what and this way you can fully enjoy this once in a lifetime opportunity that has been brought to you.
Written by: Alexandra, Spring 2023 student from University of South Carolina.