May 30, 2023



 Hey! My name is Kavya and I was a part of SAI's local friend program. The Local Friend program sets you up with another student from Barcelona and allows you to better immerse yourself in the culture and language. I signed up for the program because I was curious about Catalan traditions and lifestyles and wanted to make new friends while abroad.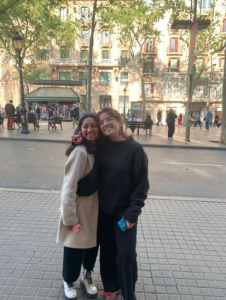 This program let me experience Barcelona like a local and learn more about the city than I ever could. She showed me cool events and concerts going on in the city, introduced me to Catalan artists and books, and I visited her family for a calçotada, a traditional barbeque that occurs in the winter seasons in Catalonia. I was able to meet her friends and she was able to meet all my friends that I made abroad. It was so cool to see that despite growing up in entirely different countries and cultures – we still had so much common.

Barcelona is already such a wonderful city and learning about it with a local friend will only make you fall more in love with it. We still text all the time and it's such a unique experience to make a genuine friendship abroad!
Written by: Kavya, Spring 2023 Barcelona Student from University of South Carolina