June 13, 2016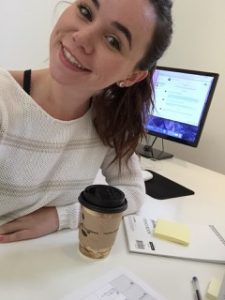 What's your name?
What school do you attend?

I attended Suffolk University in Boston MA.. I graduated in May!
Which program did you attend through SAI?

I attended John Cabot in bella Roma in Fall of 2014 :) 
What do you hope to accomplish in this summer internship?

I am really excited to learn more about how a study abroad provider works from a behind the scenes perspective. There is so much more that goes into sending students abroad than we see.
What did you love most about your SAI program?

My program had such a close knit group of students. With all of the orientation activities, excursions, and housing setups, I left my time abroad with a whole bunch of new lifelong friends.. I've had friends from California visit me in Massachusetts, some of us have trekked up to NYC to visit others, and now I am reunited with some of my old roommates here in California! That is one of the best study abroad benefits!
What is your best/favorite memory of your time abroad?

That is such a tough question! All of my memories are amazing but I would have to say my weekend in London was my favorite. It was my first holiday away from my family, Thanksgiving, and I was visiting a friend from home who was studying abroad in London. Her British friends had never celebrated Thanksgiving before so they offered to cook for us all. Aside from being the most delicious Thanksgiving meal ever (sorry, mom), it reinforced how your friends abroad become your second family! It was a weekend I will never forget.
Do you have any funny traveling stories to share?

One weekend my friends and I travelled to the Amalfi Coast with one of the student travel groups in the area. There was a guy I had been crushing on who was on the trip with us. I will be the first to admit I am not very smooth when it comes to talking to guys, so my first and only encounter "flirting" with this guy was disastrous. I ran into him at a kebab restaurant near our hotel and spent about 30 minutes rambling on about different types of kebabs. If it wasn't for my friend Brittany stepping in, who knows how long I would have talked! Upon leaving I asked my friend Mike "if you liked a girl you would share your kebab with her, right?" a quote my friends did not let me live down. It was embarrassing but looking back, my friends and I laugh every time. 
What was your go-to/favorite meal while abroad?

I went abroad hating tomatoes! I mean, they were possibly my least favorite food ever, but once I was living in Rome where the food is all fresh and delicious I became obsessed with bruschetta. 
What advice do you have to offer those just embarking on their study abroad experience?

I would say take pictures but also stop and just take in the sights (I know, contradicting)! There is nothing like looking back and reminiscing on photos but the mental photos you have are just as important!