October 19, 2021



It is impossible to spend a day here and not fall in love with the values and philosophies that form the core of life in Italy. The buildings, the food, the clothes, and the pets all serve a purpose. The pursuit of timeless beauty, above all, dictates everyone's day-to-day activities. People don't just do their chores, they do their chores with style. Conversations with locals don't start with what your job is, instead, the conversations tend to turn more towards what you enjoy doing with your life. With beauty over functionality, you are allowed to present yourself for your character and not be branded by your work. This directly contrasts the max efficiency design mentality which prevails in the US and is one of the main reasons I have found living here to be the perfect place to further myself and my education. The roads are bumpy and the sidewalks will grab your shoes and try to take you out on the daily. These little "inconveniences" may seem annoying but you will learn to have a purpose with each step you take. This mindfulness not only allows you to not make a fool of yourself, but it brings you to your most present self which is invaluable and for me is one of the most important missions of my life. This presence allows you to enjoy all of the little details in a sip of wine, all the sensations of a flower, and all the hidden pleasures a life in the pursuit of beauty holds.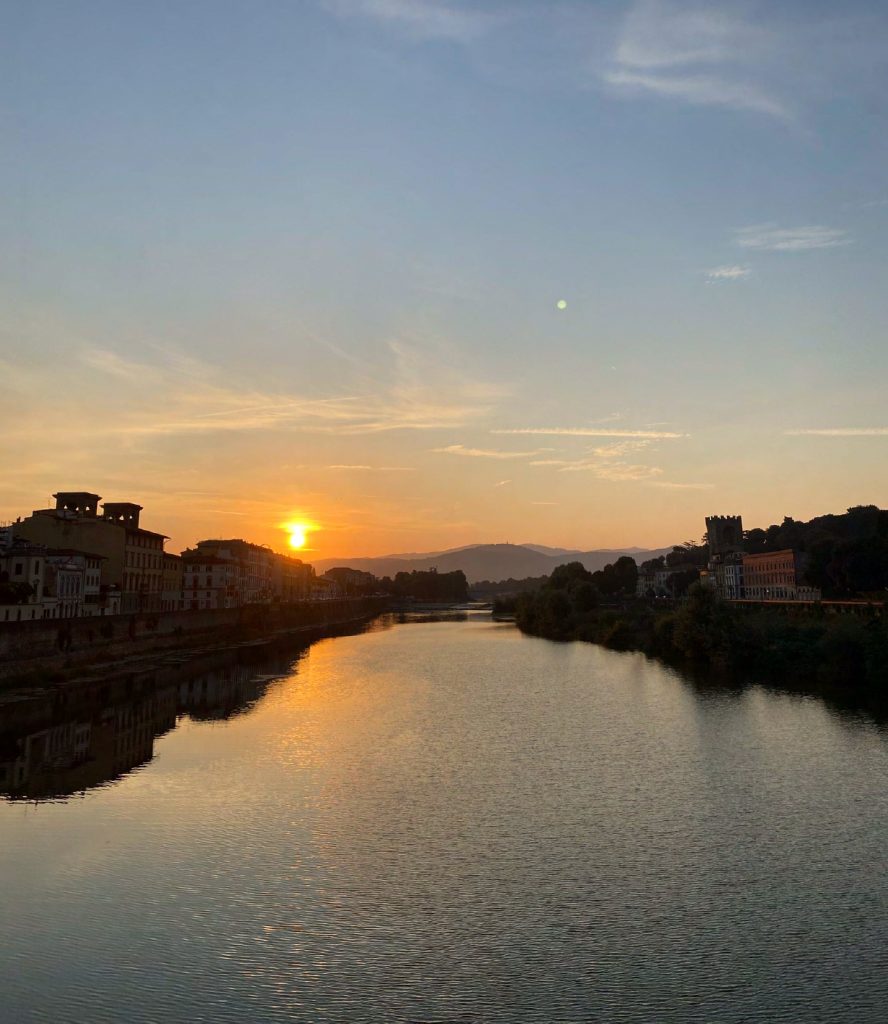 This way of life is the perfect environment to be a design student. The city will motivate you every single day to find your place in the long lineage that exists before you. Design from ancient history lives alongside a freshly pressed Gucci store with looks right of the runway. Being exposed to both of these extremes is the only place I want to be as a designer. The designer stores don't just offer expensive clothes and unattainable ideals, they serve as a showcase for modern design so feel no fear if you wish to go appreciate the world's most beautiful fabrics and ultra-modern silhouettes. The two largest brands that call Florence home (Gucci and Ferragamo) also have modern museums to appreciate not only their work from the past but to imagine and dream in their world as well as be challenged on what modern retail and design should look like. As a designer, access to these stores serves as insane motivation to get back to my own work and work as a free taste of the zeitgeist.
Getting to work here is one of the greatest honors of my life. Anyone can be a designer with unprecedented access to technology and social media telling you what is on trend but if you want to be a master in life you must submit to a master. All the professors either have recently worked in the field or continue to work in fashion (schedule geniuses if you ask me) so they are there to prepare for the real world and pass on all they have learned to ensure you are as ready as you can be to begin your professional career. The teachers in the design program are not here to baby you, if you really want to do this as a career they will push you harder than you may feel comfortable with but it is because they want to succeed and put out the best work you possibly could. They will ask you important questions, push against your ideas to see if they break, along with keeping you on track to finish what you started. This is only if that is what you wish for yourself though. If you're just passing through, trying to learn a new skill, or interested in learning about the industry they will meet you where you are at and give you access to real-world experience through the school's retail store and knowledgeable analysis of the stores around Florence. There is no better place to push yourself creatively or to enjoy fashion than here.
Sinclair is a Spring 2021 and Fall 2021 student studying abroad in Florence.