November 22, 2019



I was fortunate enough to have been housed in an apartment near the Duomo and all of my classes during my semester in Florence, Italy. On rainy mornings I am grateful to be so close to my destinations! However, this convenience also allows me to get lazy. When so many food options and shops are so close to my apartment, why should I bother venturing out of my neighborhood?

I love my section of Florence, but it is also the most touristy area in the city. Lots of tourists means lots of restaurants and shops geared towards targeting these tourists. As a result, if I don't venture far enough away from my apartment, I'm not getting the authentic food/shopping/cultural experience that I came here for! I constantly have to remind myself to explore new parts inside and outside of the city, even (especially) if it means leaving my comfort zone. The same goes for anyone else studying abroad.

This applies to the city you are living in or any popular city you are visiting! For example, I once made the mistake of getting ushered into a tourist-trap restaurant in Venice by a slightly too pushy host outside the restaurant. Once inside, the waiter started bringing plates of food we didn't order and implying that it was included. We were confused because we didn't order it, but after looking around we saw that all of the tables around us had the same appetizers on their table as well, so we figured it was normal. To our disappointment, the food we ordered was horribly bland. By the time we received the bill, we discovered that we had been charged 40 euro worth of food that we didn't order! When we asked the waiter about it he was very rude and insisted we had to pay for it since we ate the food that he brought us. I was shocked – not only was it the first bad meal I've had since arriving to Italy, but it was also the first time I've ever felt tricked/taken advantage of by a waiter. Later I looked up the restaurant online and saw that they had a 1.5 star rating on Yelp and thousands of reviews labeling them as a terrible tourist trap!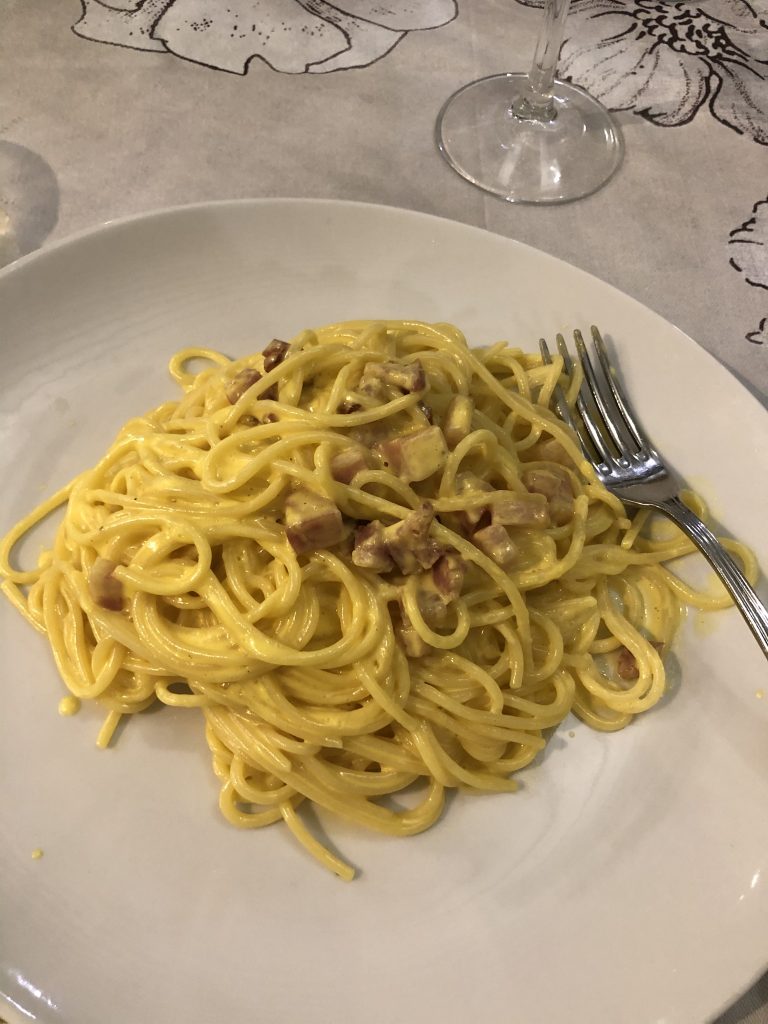 That said, I have also had the complete opposite experience while visiting Bologna, Italy. My family and I stayed in an Airbnb outside of the city center in a residential neighborhood. The restaurant we went to had only local Italians dining inside and the staff didn't know any English, so I even got a chance to practice my Italian! It was there that I enjoyed one of the best (and cheapest) meals I have had this semester!
This goes to show that it really pays off to go beyond the flashy tourist spots in any city. After all, you came here to explore and appreciate another culture! I promise it is worth it to leave your comfort zone. You get the opportunity to meet new people, discover new places, challenge yourself, and learn so much more about the place you are visiting!
Julia is a fall 2019 Florence student from Appalachian State University.