June 5, 2017



SAI Ambassadors have the opportunity to apply for a summer internship in our US office in Northern California. We are pleased to welcome Felicia to our team for the next few weeks!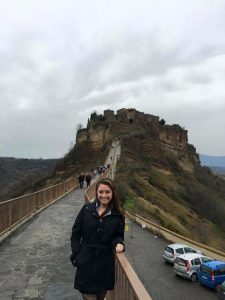 What's your name?
Felicia Homan
What school do you attend?
I attended Carroll University in Waukesha, WI and graduated in May!
Which program did you attend through SAI?
I attended John Cabot University in bella Roma in Fall of 2015 and Spring of 2016!!
What do you hope to accomplish in this summer internship?
I am really eager to learn the ins and outs about SAI and to see behind the scenes of a study abroad provider.
What did you love most about your SAI program?
I had such an amazing experience with my SAI program! From the orientation activities, excursions, and housing setups, I left my time abroad with a million stories to tell to last me a lifetime. I made some lifelong friends and have had some absolutely amazing experiences. The benefits of studying abroad are endless and you learn to appreciate the little things that make up the whole. The weekend excursions were absolutely incredible and are something that you will never forget!
What is your best/favorite memory of your time abroad?
This is by far the toughest question of them all! Being abroad for a year has left me with thousands of incredible memories. Each class, each weekend trip, each city you visit will leave a lasting impression on you. I went to Roma without knowing anybody and made one of my lifelong friends who also stayed for the entire year. We were fortunate enough to travel everywhere together and the friendship and connection we made left us with a thousand memories. Our favorite place was sitting up on Gianicolo Hill late at night with gelato in our hand and just enjoying the fact that we were in the eternal city, that it was our home. Our first trip was to the Amalfi Coast and it was adventure after adventure, which ended up with us unintentionally scaling a mountain back to our AirBnB and ending the night racing Vespa's with some Italian locals!
Do you have any funny traveling stories to share?
One weekend we travelled to Amsterdam and wanting to save on some money ended up buying a wheel of cheese and eating this the entire weekend so that we could experience all that the city had to offer. Strange, but also one of the best memories that always puts a smile on our faces!
What was your go-to/favorite meal while abroad?
The answer to this question is 1001% gelato, always gelato. For the best gelato in all of Rome, Giolitti's is by far a must have. However, amatriciana is also a favorite of mine!
What advice do you have to offer those just embarking on their study abroad experience?
I would say to take advantage of every opportunity that you have! Never in a million years did I think I would have gone skydiving over the Swiss Alps, racing Vespa's up the mountains in the Amalfi Coast or snorkeling off the coast of Portugal. Take time to enjoy every opportunity that you are given and don't be afraid to try new things!