July 11, 2017



Nicole is a SAI Ambassador who was selected to intern at SAI's headquarters in Sonoma County, California for the summer.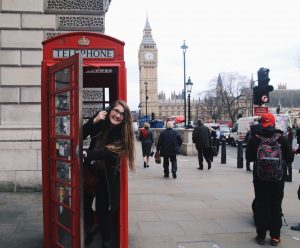 What's your name?
Nicole Gagne
What school do you attend?
I attended Stephens College in Columbia, Missouri and graduated this past May!
Which program did you attend through SAI?
I attended London College of Fashion in the spring of 2016!
What do you hope to accomplish in this summer internship?
After studying abroad, I became fascinated with international education. I returned to my home university and became an ambassador for SAI. I loved talking to students about my experience and the benefits of studying abroad! I saw SAI from a student perspective and now as an intern, I will get to learn more about the inner workings of SAI and what all goes into creating an unforgettable experience for students!
What did you love most about your SAI program?
Everything. From start to finish, SAI made the experience so simple – from pre-departure to post arrival back home, they were there. They are extremely hands on and they make you feel comfortable in a situation that can potentially feel really scary. When you go abroad, more often than not, you don't know anyone and SAI makes sure that you feel at home in your new city! It truly felt like one big family. I could go on and on about how much I love SAI.. The experience would not have been the same without them.
What is your best/favorite memory of your time abroad?
It is not possible to pick a favorite…there's no way! However, I can't believe I'm saying this, but I think my favorite memories are from when things went wrong, which happened a lot. You can plan as much as you want, but it is important to be flexible. Things will go wrong, but one way or another, they always work out. You learn to adapt and find humor in situations that may not be so funny. I always say that my most spontaneous decisions are my best decisions, and those primarily took place when we veered from our original plans.
Do you have any funny traveling stories to share?
Speaking of spontaneity, one of my favorite stories is about the time I went paragliding in Switzerland. My friend from high school was visiting and we were on a three-week trip to 5 different countries. We arrived in Interlaken and decided that we wanted to do something outdoorsy and adventurous (as you do when in Switzerland I guess). The weather was supposed to be rainy the next few days, so we decided that whatever we were going to do, it needed to be that day. We walked in the place that coordinates all of the activities and next thing you know, within 10 minutes, we're driving up the side of a mountain with the intent to run off of it. That was a fun phone call to mom. It was the coolest experience ever and I would do it a million times over!
Another story, which wasn't funny at all at the time, was when I left my passport on a bus going from Vienna to Budapest. I had my passport, phone, money, keys, basically my whole life, in a little wristlet purse thing that I carried around with me everywhere. When getting off the bus, I set it down to pick something else up and then forgot about it. I realized that I had left it a few minutes after, but when I ran back up there, the bus was already gone. It was also around 11pm, so there was no one around to help me. I finally found two police officers, and started frantically telling them what happened. I was about 30 seconds in when I realized that they couldn't understand what I was saying, so I just said PASSPORT! LOST! That clicked and they directed me to a man that could help me. This man, my savior, called the bus driver and it turns out that the bus was just going for gas and then returning to the station, so I got my belongings back and all was well, but it could have been SO much worse. Lesson learned – keep your valuables in a really safe spot in your main bag!
What was your go-to/favorite meal while abroad?
If you should know one thing about me, it's that I love pasta – specifically mac & cheese, or if I'm feeling fancy, gnocchi. In London, there was this little stall in the Camden Market that sold the best mac & cheese I have ever had in my entire life. It's what dreams are made of, seriously.
What advice do you have to offer those just embarking on their study abroad experience?
I think my biggest piece of advice would be to take as many pictures and videos as possible, and don't be afraid to look like a tourist! I was always afraid to stand out as a tourist, so I wouldn't take some of the silly pictures that everyone else was taking. Then I realized that 1, most of the people around me were also tourists and 2, I shouldn't care what people think. Trust me, you'll want them later, so just do it. I created a big video of all of our adventures and now our group has something they can look back on forever and remember how much fun we had! Pictures are important, but make sure you also take the time to stand there and really absorb your surroundings. You're creating memories that you will never, ever forget.
—


Nicole Gagne
Stephens College
My study abroad adventure was nothing short of amazing. I met some incredible people and formed some of the most meaningful relationships. It's truly the people along the way who made the experience what it was. We laughed until we cried, walked until we couldn't walk anymore, and ate until we nearly popped. Those are the moments that I will never forget. I learned so much about the world and other cultures, but mostly, I learned about myself. Studying abroad was the best thing I have ever done; it changed my life and gave me a whole new outlook on the world.