May 11, 2017



After living in Florence for a little over 2 months I've come to really appreciate everything that it has to offer, especially the small not well known secrets of the city.

To begin with, we will start with the panino topic. After traveling to other Italian cities I've noticed that no other place has panini like Florence, it's one of their specialties! But as you might imagine not all places that serve panini will be authentic. A good way to tell if the panino you are about to buy is authentic is if the panino is pre-made. If you go to a shop where they have many sandwhiches already made and lined up in the window then that is a good sign that that place might be a tourist location or just doesn't specialize in panini.

But no need to worry! I have found several amazing places that will never let you down. My absolute favorite (because I found it myself) is called Gusta Trippa. This place is essentially a hole in a wall and I have never seen another American enter which is how I knew it wasn't a tourist location. Their ingredients are extremely fresh and they really take the time to make you a great panino for only 4.50 euro.

The next place that comes in close second is called All'Antico Vinaio, if you haven't already seen the name somewhere you will definitely find out about it when you come to Florence because it is extremely popular. They have so many people that go there that they had to open another one right across the street from the first! Make sure you know what you want before you get to the counter because they move very quickly and it's easy to get nervous and quickly order something that you might not want.

After this coms 2 other places with I think are at a tie. One is called I Due Fratellini (The Two Brothers) and is another hole in the wall but is so so authentic. Lastly a great place to go—that will understand English if you are just getting to Florence—is called Pino's. In my opinion this is not as authentic as the other three listed but definitely has the biggest selection of panini, all of which taste amazing!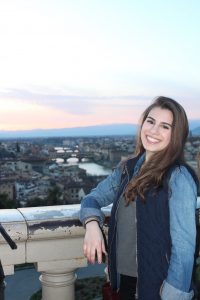 Once you have gotten your panino you might be wondering what else you can do in the beautiful city of Florence; there are many options! Of the most beautiful places to go where you can get the best view of the city is Piazza Michaelangelo. It is a piazza very high up that overlooks the city and is 100% worth the trek.
If don't feel like climbing up a lot of stairs another great location is the Boboli gardens. They were the gardens of the Medici family and are directly behind their castle in Piazza Pitti. If you really don't want to do any walking at all another great option is go to what I like to call the pizza slice on the Ponte Santa Trinita. There are a total of 4 "pizza slices" that stick out from the bridge and look over the river towards the Ponte Vecchio and in the other directions. Often times people hop over the bridge and sit on the slab of concrete to simply relax and watch the flow of people and the calmness of the river.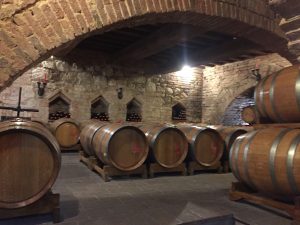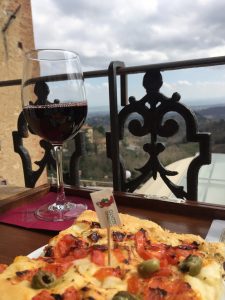 Another adventure that I highly recommend is taking a visit to Montepulciano. This is a small medieval town about an hour away from Florence that is known for their Nobile Wine. It is very high up and overlooks Tuscany with an absolutely amazing view. It is an extremely cute town and is inhabited by some of the nicest people that I have met in Italy. If you decide to go, make sure to check out many of the underground wine cellars which were originally created as dungeons as far back as 2000 years ago. The town is extremely small and you are able to see an absolutely spectacular view from almost any point in the town!
– Brigitte is a Boston University student who studied in Florence during the spring 2017 term.