June 7, 2023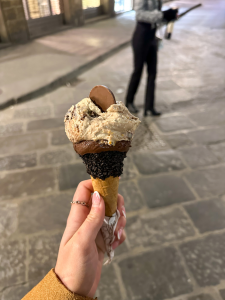 It's dark and raining. The stars are blocked by the overcast and all I can hear is the never-ending "squish squish squish" that flows from my shoes as I step rapidly over the wet slanted cobblestones of Florence." The illuminated sign welcomes me, and my addiction to indulge and enjoy the creamy deliciousness of its famous Italian treat. I'd be at the wooden door frame made of glass in a minute. I imagine myself ordering a regular cone dipped in chocolate. The satisfaction is just a few steps away. Finally, I've made it. I step onto the cremino-colored floor representing their favorite ingredient, the Piedmont hazelnut. The smell of rich chocolate engulfs my nose in the most satisfying way and sends me back in time remembering the first time I walked into the shining store.
Venchi is an Italian gourmet chocolate and gelato shop founded by an ambitious chocolate lover Silviano Venchi, who spent his life savings experimenting with chocolate and became a chocolatier in his 20s. It dates back to 1878, but launched its delicious gelato in 2007 and today has 90 different recipes in stores found across 70 countries. Venchi is inspired by the customer and "designed for moments of joy and moments of peace, celebrations, for desire, fun and love" (Venchi 2021). Not only am I obsessed with Venchi gelato, but with everything they stand for. This innovative franchisee is passionate about its chocolates and lets customers know they're designed to suit the needs of anyone, at any point in life.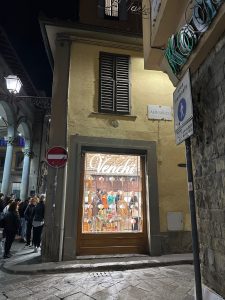 I go directly into the line and wait patiently. I appreciate the beautiful display, but it's different. A unique arrangement of large chocolate eggs, displayed on shelves balances out the smaller chocolates at the bottom of the wall. I look away to convince myself I'm not interested. I become captivated by another beautifully displayed wall of chocolate bars that beckons me with each glance. I started focusing on a particularly close friend, the Cremino bar. With a delicious hazelnut filling and two layers of chocolate, it looks like a sandwich.
Venchi values the art of chocolate and is famous for its soft mouth-watering treats, but chocolate is not the only thing Venchi is successful in. At each location, gelato masters create a unique menu of gelato for that day. Venchi prides itself on natural ingredients and celebrates the centuries-old Italian ice cream tradition. My favorite Venchi location is in front of the Loggia del Mercato Nuovo landmark, because of the welcoming and patient staff. The process is difficult. Each gelato maestro is different and they have to combine the ingredients in a certain way to achieve the thickness and taste of each gelato. All of the gelatos are gluten-free, combined with a special Italian flour called farina de carrube into each mixture.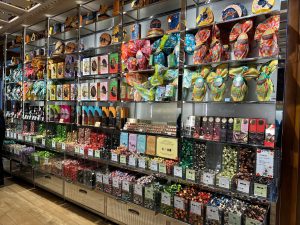 I have tried all of Venchi's famous chocolate hazelnut flavors and can say the perfect cup of gelato consists of Cremino, a beautiful mixture of Venchi chocolate and Piedmont hazelnuts, that fill your mouth with a creamy nutty chocolate taste. Combined with a crunchy yet creamy hazelnut biscuit-flavor called Baciodidama, which velvet texture melts in your mouth. I also love Nougatine. Another famous Venchi creation that consists of extra dark chocolate covered in chopped caramelized Piedmont hazelnuts. The flavor sends a buzz of energy through my body and tastes like a roasted hazelnut brownie. The traditional dish is the only thing I want to indulge in after any meal because I am only allowed this opportunity once. Everyone has different taste buds and different opinions but from someone who eats Venchi gelato at least three times a week, I can say that I highly recommend this gelato combination and Venchi, the perfect dessert shop.
"Excuse me" I look up distracted by my fascination. "Sorry hello," I answer immediately. I ordered my favorite base for my creation and moved on to the next line. "Can I please have Cremino and Baciodidama"? The girl recognizes me, I mean this is my third time this week. She maneuvers the signature milk chocolate Venchi sphere into my gelato and smiles " Grazie, ciao".
Work cited: "Our Values." Venchi, https://uk.venchi.com/our-values.
Written by: Jordyn, Spring 2023 Florence student from University of South Carolina