June 9, 2023



Hi, my name is Josh Kueh. I am from Fayetteville, Arkansas, where I study at the University of Arkansas. I am double majoring in supply chain management and information systems. I have a minor in data analytics. I chose to study in Barcelona because I love the cultural elements that it offers!

On my 3rd day in Barcelona, I participated in a scavenger hunt organized by the lovely SAI Barcelona staff (who enticed us with a mystery prize for the winning team!) Along the way, my team and I got to see staples of the city that I hadn't been able to visit before: Las Ramblas, Casa Batlló, La Boqueria, and the Cathedral of Barcelona were just some of the beautiful sights that we got to see along the way. Being able to see these places in real life was definitely awe-inspiring, especially since this is my first time in Europe.

In addition to being able to visit many of the landmarks that Barcelona is known for, the scavenger hunt also allowed us to get a feel for the city, including learning how to get around the city. The scavenger hunt initially relied on the use of the subway system, which definitely helped me become more comfortable with using the metro to get around town by myself. Later, the scavenger hunt relied largely on walking: I now understand why everyone told me to bring good walking shoes on my trip! I walked around 9 miles during the scavenger hunt, a number that has only been matched by the visit I had to New York City. However, walking was a fantastic way to explore the city.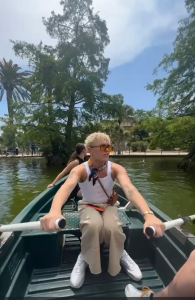 The scavenger hunt was concluded by a boat ride in Parc de la Ciutadella and a yummy picnic prepared by the SAI staff.
As a whole, the scavenger hunt was a great experience as it allowed me to get a better feel for the city, become more acquainted with my peers, and settle into my next six weeks here.
Written by: Josh, Summer 2023 Barcelona student from the University of Arkansas