May 16, 2023



My time in Barcelona and Europe was about connections. And coming here was one of the best decisions I've made. 

About me

I'm a student at Parsons School of Design in New York majoring in Product design with a focus on furniture and home products. Since I was also determined to improve my Spanish, coming to Barcelona and ELISAVA was a no-brainer. I even made a decision to take a gap year during covid just so I can still be in this abroad program which wouldn't be possible otherwise.

Life in Barcelona

Adjusting to Barcelona was fairly easy. Everybody at SAI was really welcoming and helped ease the process of settling in. All the activities that were planned were also amazing.  Frankly, I had to take full advantage of the field trips which required no planning on my side other than showing up on time for the bus ride. Outside of school, I would go to an organized language exchange once a week at a Bar and practice my Spanish, Even though in the end I'm still not fluent, I was able to make simple conversations. As a beginner in skating, I would also go to the local skateparks sometimes and even took a couple of lessons from a local teacher.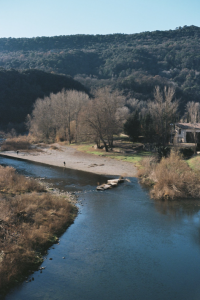 Elisava
Elisava is indeed a great design school. It opened my eyes for what type of art education is typical in this area compared to my home school. The biggest difference I've found was the level of design project presentations in the local student's works. Their visual sensibility is more proficient than my home school which I told all my classmates and professors about. Since I took mostly hands-on classes, I used the workshop very often, the technicians are extremely helpful and patient with everyone. Again, this is another thing that Elisava does better than my home school.
Academics aside, the best part of Elisava was making friends with other classmates from all over the world. Since we didn't know anybody else, we got to explore the city with each other. We would host dinner parties that turned into a dance session by the dinner table, we would go out to explore restaurants and the beach. We're even talking about reuniting a year later in New York.  At the end of the day, school is pointless without connections and friendships, right? 
Interning with a local designer
I was fortunate to be connected to a local designer with the help of Sandrine from SAI. The designer Hiroshi was from Japan and had moved here 20 years ago after completing school at RISD, one of the best art & design school in the US. He eventually started his own design studio. What started as a meet-up with him became a 3 month long internship. Since my design focus totally aligns with his studio practices and the internship responsibility, it was a perfect opportunity for me. Working under him has helped me gain new skills and insight into how an independent design studio is run. I was able to directly assist in several projects alongside his other employee and interns. Some of the projects include two modular desk concepts, a lighting design project, and a leather accessory design project. I was responsible for either 3d/physical modeling, ideation, and putting up project presentations.
While I spent fewer hours in the studio during the semester, I ended up staying for a month to intern 4 days a week. I rented my own apartment and skated to the studio every day. And I became really good friends with my fellow intern Rodrigo whom I still keep in contacts.
Backpacking in Europe
After my internship ended, I decided I wasn't done with Europe, especially when I don't own a passport that lets me travel to Europe freely. So I dropped my suitcase at a friend's apartment, packed a light bag and my cruiser board, and went on a trip around Europe for the next month and a half, starting from Italy, to Eastern Europe and ending in Scandinavia.
Aside from the attractions, I was amazed by all the iconic designs that I'd only seen in textbooks. The most amazing part of the trip was making new friends at every hostel, and even finding people to explore the new city within a matter of minutes!
My time in Barcelona was truly unforgettable and I would give anything to experience it again.
Written by Spring 2022 Barcelona student, Qiuhong Yu, from The New School.