November 4, 2019



Before your time in your new home comes to an end, SAI wants to give you the opportunity to look back on all the amazing photos you have taken by holding a photo contest! By entering, you will be eligible to win a $100 Amazon gift card just by sharing your photo with the SAI Instagram community. The process is quick and easy:
Email your photo to photos

@saiprograms.com

by

Tuesday, November 12th, 2019 at 11:59 PM ET

. 

Make sure to include your Instagram handle and a short caption describing your photo! 

Voting on the top photos will open on Instagram on November 15th – don't forget to vote!

The winner will win a $100 Amazon gift card and a printed copy of their photo, while 2nd place will receive a printed copy of their photo.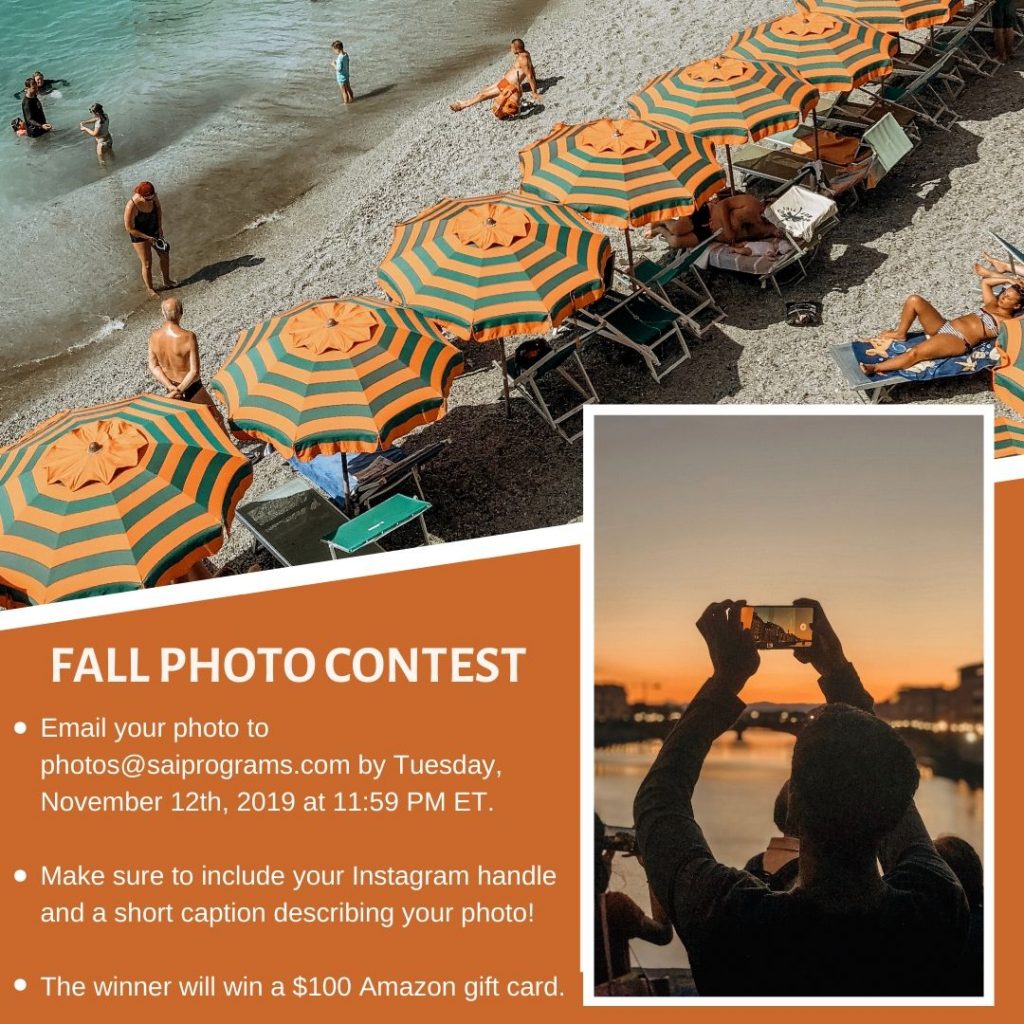 OFFICIAL RULES:

Eligibility. This SAI photo contest is open to any SAI student enrolled in a Fall 2019 session. SAI will verify eligibility of each entrant. Photo must be taken in an SAI country (Italy, France or Spain).
How to Enter. Participants should email their photo to photos@saiprograms.com before Tuesday, November 12th, 2019 at 11:59 PM ET. Valid submissions must include participant's full name, Instagram handle, and a short description of the photo. SAI reserves the right to dispose of any photo that it feels is inappropriate.
Winner Selection. SAI staff will determine the top 4 photos and then open it up for public voting on SAI's Instagram Stories. Followers will vote via poll to determine the top 2 photos. We will then post the 2 finalists and do a final poll to determine the winner. The winner will be determined within 48 hours after voting begins. Participants are encouraged to share their photo via their social networks to get more votes. Voters must have an Instagram account; individuals can only vote once. Only one participant is eligible to win the photo contest. If the Instagram contest results in a tie an SAI photo contest committee will choose the winning photo. The contest winner will be announced on November 17th, 2019.
Prize. The prize is a $100 Amazon gift card delivered via email. Second place prize is a printed copy of the participant's photo. Prizes are non-transferable.
Additional Limitations. SAI reserves the right to terminate, suspend or amend the contest. By participating (submitting via email), each entrant releases the submitted photos and agrees that they may be used for promotional purposes. The contest winner will be posted on the SAI website and social media! Contact information will not be made public. Entrants are not required to have an Instagram account; they may share the SAI Instagram photo contest via other social media platforms and/or email.