June 2, 2023



By far my favorite class this semester was Spanish Art and Cultural Heritage (SACH). It had us running all over Barcelona some days, and engagingly in the classroom other days. Our teacher would have us go to numerous museums and locations around Barcelona to show us what we had learned in class. The class was incredibly captivating and I felt I gained the most knowledge in that class. Some of my favorite topics in that class including learning about Baroque art and also Gothic architecture. The best part about living in such a culturally rich city is that you can step outside the classroom and see everything you had just learned right at your feet!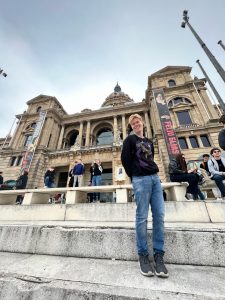 This picture was taken in front of MNAC (Museo Nacional de Arte de Cataluña) with my classmate. This museum featured lots of art specific to Cataluña! One of my favorite pieces of art was by Lluis Borrassa who painted pieces for the Catedral de Barcelona.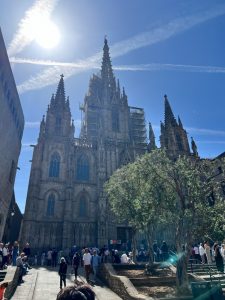 This is a picture of the Cathedral de Barcelona where we also took a field trip for this class. It was beautiful inside, with amazing architecture inside that we had learned about in class!
This was taken in the Gothic Quarter during one of our field trips. We would visit this area of Barcelona often because it has many examples of the architecture we learned about in class. It is one of my favorite parts of BCN and I love being able to walk around and know things about the buildings!!!
Written by Cristina, spring 2023 student in Barcelona from Belmont University