May 9, 2023



Outdoor Areas in Florence

The first week I got to Florence, I was surprised by the lack of greenery. The architecture is stunning in Florence, but after going to other cities, I realized I missed the small pockets of nature I am used to. Luckily, I was wrong! Florence is filled with green areas, and the city center just happens to focus on other beauties of the world. The moment I walked out of the center, I was introduced to the most beautiful gardens and parks. Here are some of my favorite places I have been. 

Parco Della Rimembranza 

Even higher than Piazzale Michaelangelo, this park sits southeast of the city center right behind Abbazia di San Minato al Monte (a beautiful church). The views that surround this park are gorgeous. Not only do you get to see the Duomo on your way to the park, but on the backside, you can see rolling Tuscan hills. You are also surrounded by tall cypress trees and the sounds of nature. In addition to this, once you loop around, you are met with Giardino di via della Porte Sante, another beautiful green space.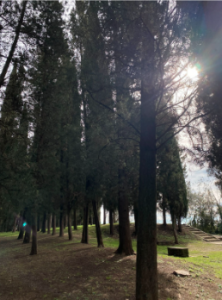 Orti del Parnaso / Giardino Dell' Orticultura
North of the city lies two beautiful parks that sit side by side. Orti del Parnaso sits atop Giardino Dell' Orticultura and offers views of the city but from the opposite side. It also shows off a cool sculpture of a dragon made with glass bottles. It is yet another tranquil space. Giardino Dell' Orticultura is a bit larger and is a great place to have picnics with friends and enjoy each other's company. There is also a large greenhouse there, that while only open for a small portion of the year, is made beautifully, and a site to see.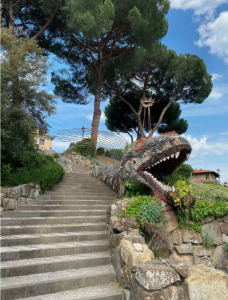 Giardino delle Rose
I first went here in February, and the statues that stood in this park took my breath away. I had such a fun time exploring this park and seeing the art that it had to offer. Then, I went again in late April, and some of the roses were in bloom! The park is already gorgeous, and seeing the flowers left me in awe. And of course, there is still a great view of the city. This is the perfect spot to take your friends, or just yourself, and enjoy both man-made and nature-made beauty.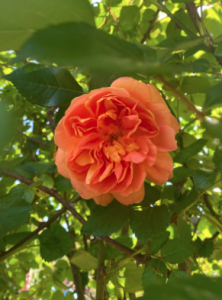 Somewhere in Florence
Honestly, some of my favorite spots, have not even had a name. I have walked 30 minutes up some streets, and have been met with rolling hills, wisterias, and the sounds of birds chirping. I have also seen so many beautiful homes and bright colors that way too. My biggest recommendation is to go outside and see where it takes you. Enjoy!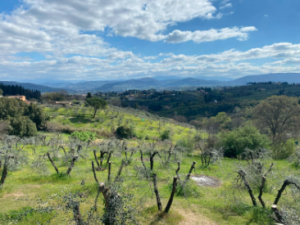 Honorable mentions:
Piazza Massimo D'Azeglio

Giardino Bobolino 

Giardino dell'Iris (only open for a short time, so make a plan to go)
Written by: Abby, Spring 2023 student from Colorado State University