May 2, 2022



I've been working with SAI students for over 18 years now and I can officially say that cell phone options have always been a bit tricky! With Europe finally getting rid of some roaming charge issues, things are getting better, however, there still is the difficulty with connectivity and the different band frequencies that are used in the U.S. versus abroad. Not to mention the issue of Wi-Fi availability with the ancient stone buildings in so many European cities. When it comes to cell phones, things just aren't simple and there isn't one size fits all!

I know what you're thinking, your biggest fear is to travel abroad without your smartphone: "I need to stay connected" "How will I call my family once I arrive?" "How will I contact my roommates or friends?" "How will I get GPS on my phone to navigate while I'm traveling?" Don't worry, I completely understand – it's almost like having to leave part of yourself behind when your phone isn't traveling with you!

I'm sure you can agree that there is a strong sense of security when you have a cell phone that works abroad – it seems to just put you at ease (along with your parents, who are waiting for that call that you've arrived safely!). After all, SAI requires you to have a contact number while abroad for emergency purposes.

Well, I'm here to help!

First, take a deep breath, and think about what option you'll want to take when it comes to your communications abroad. Consider:
Will I need to use data?
Will I need GPS access for traveling?
Can I just get by with making calls and texts only, and not use data?
Do I want the cheapest means of communication?
Answering these questions will help you decide whether you will need a data bundle with a small amount, or a large amount of data allotment; or just a simple call and text plan with no data (basic handheld phone and SIM).
Here are your main options when it comes to cell phones abroad:
1) Bring your own phone and use your own U.S. provider's international service plan:
This option means bringing your own smartphone with you and ordering an "international plan" through your own U.S. provider (i.e., Verizon, AT&T, etc.). This may be the easiest option since you are already familiar with your own smartphone, and it has all of your apps and contacts already installed. I can't say it's the cheapest option though, since the rates typically are higher than if you were to rent directly from a provider abroad.
2) Bring your own unlocked smartphone and rent an international SIM card from a provider abroad (Vodafone, TIM, etc.):
This option means bringing your own unlocked smartphone with you abroad and registering for a host country SIM card at a local wireless shop upon your arrival (i.e. Vodafone, TIM, etc.). If you decide on this option, it may be more cost effective, however, you will need to make sure your phone is unlocked so the International SIM card will work. In addition, your APN settings will need to be setup upon inserting the SIM card (this is due to the different band frequencies that are used abroad). Sometimes the SIM will work without having to adjust your APN settings; if this happens, consider yourself lucky! Most of the time, this is not the case.
If you choose this route, you will need to gather information upon arrival from your provider options. SAI on-site staff will give you basic information about your options during orientation, but it will be your responsibility to compare offerings and make a final decision.
Just remember to get your phone unlocked, or the International SIM card won't work! If you think your phone may already be unlocked, you can test it by taking out your SIM card and inserting one of your family or friend's SIM cards with a different carrier than yours to see if it works. If it does, then your phone is unlocked.
3) eSIM
Many newer phones have an embedded electronic SIM (i.e. eSIM) that allows you to connect to European mobile carriers without needing to install a physical SIM card. When you arrive in Italy, you'll go to the carrier (Tim, Vodafone, Wind, etc.) and you'll be provided a QR code to activate your eSIM. Essentially, it's the same process as getting a regular physical international SIM card. Your phone will still need to be unlocked in order to get an eSIM/dual sim.
More information here:
4) Rent or buy the smartphone and SIM card from a provider abroad (Vodafone, TIM, etc.):
This is a good option for those who are unable or unwilling to unlock their smartphone. With this approach you can rent or buy a smartphone in-country for everyday use. You can also continue to use your US cell phone (on airplane more) for photos if you would prefer, although it means carrying around two phones.
As with option 2 & 3, you will need to wait until you arrive abroad, and visit one of the local carrier stores to rent or purchase a local phone and SIM and set up your plan. SAI on-site staff will give you basic information about your options during orientation, but it will be your responsibility to compare offerings and make a final decision.
When to Decide:
Are you feeling overwhelmed yet?! This is a lot of information to take in, but it's important to decide what route you'll be taking ahead of time. It's a good idea to begin by contacting your US service provider to discuss the international plan rates, as well as any details around how to unlock your phone. Give yourself plenty of time to consider your options and priorities!
A few things to keep in mind:
For security purposes, SAI requires that you have a functioning phone number abroad – we need to be able to reach you! If you make any changes to your cell phone plan, please don't forget to let your SAI Program Coordinator know, as we keep your phone number on file.
Do plenty of research ahead of time, and remember it's completely up to you what route you choose to take for your phone.
Using a local plan is usually the cheapest option. This option requires more effort, and potentially a few days of having to use your US number while you are working out your local plan options. In these cases, we recommend that you purchase a minimal international plan from your US provider to cover your first two weeks in country while you are getting set up.
I hope this sheds some light on the subject and makes your decision making a bit easier. For more information on your cell phone options abroad, please see Cell Phones. If you have any questions or concerns, or just want to talk your cell phone issues out with someone, please reach out to our admissions office: admissions@saiprograms.com. Our job is to make things as easy for you as possible, so you can focus on your studying and life abroad.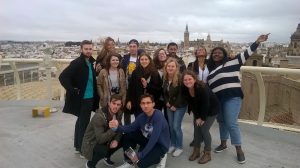 One more thing – I encourage you to use free communication apps over wifi as much as possible, as it'll really save you money:
WhatsApp – free calls and texts to other WhatsApp users
FaceTime – free video chat (Apple only)
Viber – free calls and texts to other Viber users
iMessage – free texts (Apple only) – turn off "Send as SMS" in phone settings.
Google Voice – free calls and texts to other Google Voice users
Skype – free calls and messaging to other skype users
Happy travels!