May 1, 2023



Hi! My name is Allie McDermott, and I am currently a pre-med junior within the University of South Carolina's Honors College. During the Spring 2023 semester, I studied abroad in Barcelona. Reflecting on my incredible journey throughout Europe, I remain especially grateful for SAI's dedication to providing a plethora of experiential learning opportunities for us students. In addition to attending wonderful day trips planned by SAI, I enjoyed working for and obtaining the Global Leadership Certificate as well as the International Service Certificate.

Every Tuesday afternoon, I volunteered as a teacher's assistant at Escolar Pia Sant Antoni, helping a class of first grade students learn English. We always began by singing a handful of energetic English songs to practice common phrases. I loved watching the shyest students come out of their shells during this time. Later on, the students would complete themed art projects. For instance, to celebrate St. Patrick's Day, each of the children created a mini booklet with drawings labeled in English. I was impressed to observe how quickly the young students learned English through creative and engaging projects. Over the course of the semester, I developed a connection to the students. By March, it became customary for the students to greet me with group hugs!

Escolar Pia Sant Antoni is located in a diverse neighborhood of Barcelona. As a result, the children were from all over the world, from countries such as Argentina, Spain, Pakistan, and Morocco. Each child had a unique family background, and many enjoyed chatting with me about their customs. For instance, one student especially liked to teach me words in his native language, Urdu. I never once saw any student feel uncomfortable as a result of his or her ethnicity or culture. It was clear to me that a high level of diversity in the classroom played a crucial role in strengthening the kindness and openness of the students. Overall, volunteering at Escolar Pia Sant Antoni was a highlight of my semester!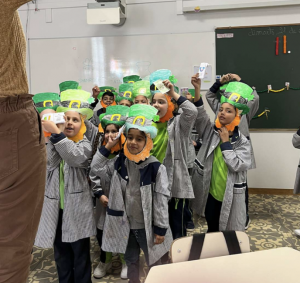 In addition to volunteering, I attended three lectures in Barcelona over the course of the semester. I learned about the global economy of rare earth metals, the process of creating supportive work environments for LGBTQ employees, and the effect of the Israeli-Palestinian conflict on women in the region. These three unique lectures greatly strengthened my world citizenship. I now have a deeper understanding of global dynamics and am motivated to continue educating myself on important world issues. As a pre-med student, it is especially important for me to be aware of global issues that may impact public health.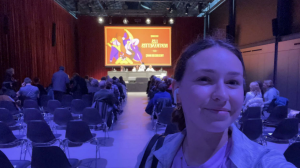 Last but not least, I was able to explore Barcelona's medical field through the support of Sandrine, SAI's Barcelona Program Director. First, she connected me with Dr. McCarthy, a retired American doctor who spent her entire career practicing in Barcelona. I interviewed Dr. McCarthy in her apartment and learned all about her interesting journey to Barcelona, which included meeting her Spanish husband during a fellowship in Africa. In addition to learning about the structure of public hospitals in Barcelona, my big takeaway from this meeting was the importance of perseverance as a medical student and resident.
Next, I connected with Huanhuan Chen. She is currently working toward a master's degree in biotechnology at UAB's main campus. We chatted about her career path, her positive experience with Spain's healthcare system, and the many differences between being a college student in the United States versus Spain. I look forward to keeping in touch with Huanhuan in the future!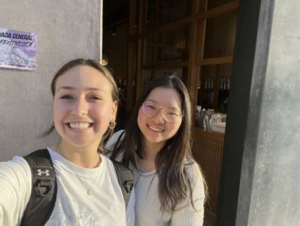 Finally, I met with Anna Pons at Delfos Hospital, a private hospital in Barcelona. She gave me a tour of the hospital and explained that patients who come here often pay for private insurance. However, I was surprised to learn that some individuals choose to receive treatment at private hospitals or private facilities to avoid long wait times. Even then, their out-of-pocket costs remain below $1,000. The same cannot be said for the United States! Overall, as a pre-med student, these three experiences were especially enriching, and I look forward to incorporating newfound knowledge about Spain's healthcare system in future public health courses I take at the University of South Carolina. All of these experiences have elevated my understanding of the world and the dedication it takes to be an effective leader. SAI inspired me to take ownership of my education abroad, and I am extremely thankful!
Written by: Allie McDermott, Spring 2023 Barcelona student from University of South Carolina