December 13, 2018



Montmartre is arguably one of my favorite places in Paris.  It's almost like you're not even in the city– it's just that different from the rest of Paris.  So whether you are catching a show at the Moulin Rouge, or making your way to Sacre Coeur, take a moment to stop and see everything in between.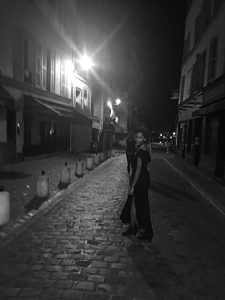 YOU ARE HERE!
So there are many places to start your walk through Montmartre. You can start at Pigalle, which is at the foot of Montmartre. This is kinda the more sleazy part (sex shops for days lol) but it still has a lot of personality. Here you will find The Moulin Rouge and many more music clubs and cabarets. Also, this part of Montmartre has multiple places for smaller, more intimate, concerts, so if you are ever going to a smaller concert in Paris, it most likely will be in Montmartre.
So that's one place to start, or you can start of Abbesses (a very fashionable street in the area). From Abbesses you can easily walk up from their and avoid being in Pigalle. Fair warning: The metro stop for Abbesses literally has a trillion stairs! Just saying…Yeah there is an elevator, but it can be very slow sometimes. But besides the small test of endurance needed to conquer the stairs (honestly you would have to climb stairs eventually considering Montmartre is named after its elevation) you are let out onto a street that has many places to grab lunch/dinner and has a lot of cool places to shop and look around in. Also, note that this is the place where you want to go to when you get hungry, once you get up the hill, prices tend to get higher because of the fact that Montmartre is a huge tourist spot.
You found your starting spot, now what? Where are you gonna go?
EXPLORING IT MY WAY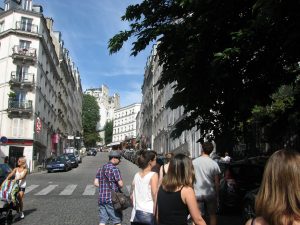 Stay on Rue des Abbesses for a while: It's such a cool street that if you have the time, I would highly suggest spending some time there shopping and eating. Also there's a bubble tea place that I'm obsessed with called O'bubble. So stay a while and look around.
I Love You: Also, another reason why you should stay on Rue des Abbesses for a bit is because The I Love You Wall (Le mur des je t'aime) is there! On this wall are over 311 written declarations of love in 250 different languages. So go find your language's way of saying "I Love You" and grab a picture of it.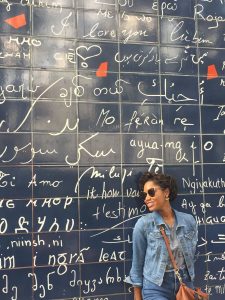 Check out the graffiti and street art on your way through Montmartre: Maybe take a couple of smaller routes to see the really cool wall art that pops up in Montmartre.
Find out the tragic story of disco singer Dalida: Dalida was a famous singer and was loved by much of Europe. She lived in Montmartre and her house still stands there today. Although she had much love from fans, she herself was considerably unlucky in love, so I would strongly suggest taking the tour and finding out just how unlucky she was. Also there is a bust in her honor erected in Montmartre, and they say if you go and touch her boobs, you will receive 7 years (14 if both hands I think) of good sex. Before you even ask…yes I touched her boobs lol.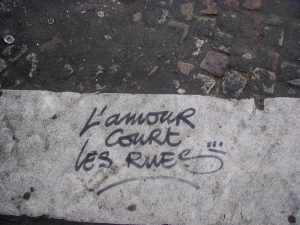 Le Château de Brouillard: Dalida's statue over looks "The Fog House," a beautiful structure where the famous impressionist painter Renoir lived. Now people say that it is named this because of the clouds and fog that would gather around the house (how romantic) but some beg to differ. Our tour guide told us that it was because they would have so many smoking parties there, that it would cause smoke to fill the area.
See the wine garden of Montmartre:  A wine garden in Paris?! I know it's so surprising, but it's true. It is the only "vineyard" inside of Paris. Every year in Montmartre, they hold a huge festival where everyone comes and tastes the wine (that isn't good, so says my tour guide), eat, and just have fun.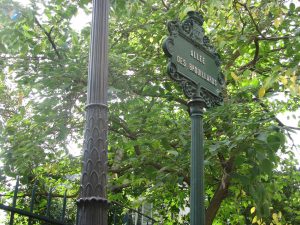 The Artists Square: The square is honestly probably THE most touristy part of Montmartre and also a little expensive. Yeah it's cool to see the "artists" painting, but like I said it can be a little pricey. (But this spot is quality for a date night, trés romantique)
Sacre Cœur: Translating to "Sacred Heart" in English, Sacre Cœur is a beautiful Roman Catholic church at the top of the hill of Montmartre. You are free to go in and marvel at the beauty inside. You can also go up to the top of the church (but this will cost you about 10 euros). Also you get a pretty breathtaking view of Paris by just standing outside of the church. It's truly a must see. (Beware though, at night Sacre Cœur isn't exactly the best place to be, so time your visit wisely).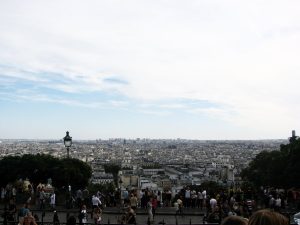 Montmartre has so many other places to explore within it, and I try to go as much as possible. If you are in Paris for any amount of time, this is definitely a place to spend some time in.
To read more about Ariana's travels abroad, check out her blog: www.thenewclassique.com