February 10, 2023



Studying abroad is hard. No doubt about it. Don't get me wrong, it's amazing for all the reasons people say it is—widening perspective, new experiences, meeting people from all across the globe—but when you study abroad, you're also choosing to live an entirely different life than the one you're used to. It takes time to adjust, and it might take a few weeks (or months, even) before your new location starts to feel like home.

Having grown up traveling, I wasn't really expecting to get hit hard emotionally while abroad because traveling wasn't new to me. This thought was soon proven wrong; while getting groceries at my local Conad, a song I loved randomly played on the speakers, bringing tears to my eyes in the middle of the olive oil aisle. "What was going on?" I wondered, "Why is this hitting me so hard?"

I took a beat, collected myself, then kept shopping. All you can really do, right?

When you're abroad, you feel all the regular highs and lows of life to the extreme. Not only are you out in the world living your life, making mistakes and learning, you're doing that in an entirely new environment while facing language and cultural barriers.

So, you have to give yourself time to adjust, time to feel all the feelings: the immense highs, like when you swim in the ocean with your new friends on a sunny afternoon or when you dance in the piazza to the sounds of the street musicians, and just as important, the immense lows.

Without further ado, here are my ratings of places to let myself feel those intense lows:

1) Piazza del Carmine: 9/10
A well established church with no frills, this wasn't one of Florence's main tourist spots. Obviously ideal for getting emotional in public; you don't feel self conscious, as there aren't any tourists aiming cameras at the architecture around you. The nice wide church steps hosted me for hours sometimes, either journaling or listening to music or just simply sitting in solitude, surrounded by others doing the same.The pretty Chiesa di San Frediano in Cestello in the near distance was a nice place to aim your eyes while you let your mind wander. Bonus: the wifi there is really strong, so you can FaceTime a friend (or your mom) for hours without going over your monthly data limit.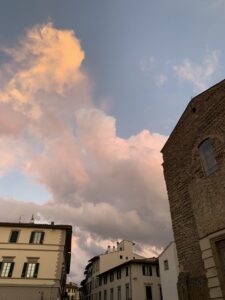 2) Piazza Santo Spirito: 3/10
I have mixed reviews; during the day I'd give it a 0. It's very popular with both locals and tourists and you'll see walking tours cut through the piazza, people of all ages hanging out, smoking cigarettes, eating gelato, and enjoying the outdoor seating of the surrounding restaurants (Ristorante Ricchi was my go-to spot). On Sundays, there's an outdoor market, so there's even more people and more action—not ideal for popping in earbuds and letting yourself cry. There are even more people at night, so you really have to pick the time well. I found that around midnight and after, when the restaurants around the piazza are closed and tours have finished for the night, that's the time to go if you're in search of solitude. However, beware that the street cleaners will come by late-night as well, so this one is really only good if you live right above the piazza and can look out your window to gauge the level of busyness.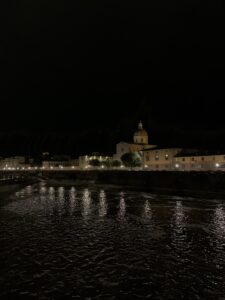 3) Ponte Amerigo Vespucci 6/10
As I lived nearby, I came out here at night sometimes to get air and look at the water, and it helped a LOT. Florence is a cobblestone town—none of the towering redwoods and ocean waves from home—so being around nature in the form of the river helped me center myself when I was feeling chaotic. However, when I was there, the construction blocked off half of the pedestrian walkway (not very convenient). Plus, in terms of safety, you are on the side of a street, so it's good to be alert and aware; not ideal for when you just need to have a good cry.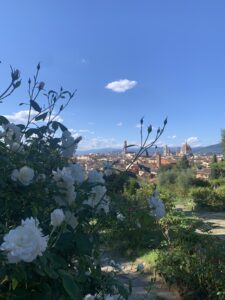 4) Giardino delle Rose 8/10
This one takes some walking but it's a worthwhile endeavor. Yes, it's public and yes, it's a spot that brings foot traffic, but since it's a trek and a smaller sightseeing point compared to the nearby Piazzale Michelangelo, it's one of those "hidden in plain sight" gems that make it a perfect spot for letting the tears fall. Up amongst the flowers, with a beautiful bird's eye view of the city below, taking a break at the Giardino delle Rose helps put things in perspective.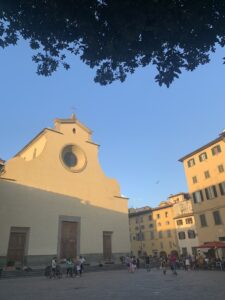 And really, whether you're crying in your apartment's (tiny) shower or on the Ponte Vecchio (hey, it happens), the main thing to remember is that it's really good and healthy to let yourself feel, even when it's embarrassing or inconvenient. Bottling up your feelings is a surefire way to get even more overwhelmed. Give yourself time to adjust, give yourself space to feel unsettled, and soon enough, you'll be going to these spots with a book or with friends or a camera instead of with Kleenex—I know I did.
Written by: Elina, Fall 2022 and Spring 2023 FUA – AUF student from University of San Francisco