February 3, 2023



Studying abroad can be such a fun adventure, with new food, new friends, and new surroundings. And the best way to remember those moments are with photos! Whether you brought your digital camera or are using your smartphone, taking a picture will be the best way to make the memory last forever. But you might be asking yourself, "Where do I go to take a good picture?" First, keep in mind that when studying abroad, there is no such thing as a bad picture. Every moment is one worthy of sharing with a story to tell. But most importantly, know that there is a time and a place for photos. If there's a church service occuring, that is not the time for a photo.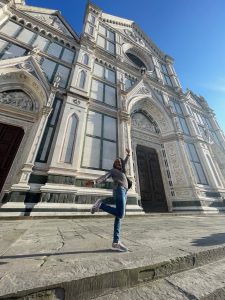 The Duomo
This first one can be a challenge due to many people who are visiting, but the picture is worth it. Take in the grand monument that all the roads lead in Florence. I highly recommend keeping all your belongings to yourself in this area.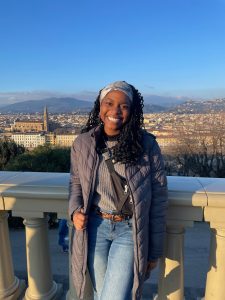 Piazzale Michaelangelo
This one is my favorite, especially at the start of the sunset. Highly recommend wearing your sneakers because it is a hike. Also, please keep your belongings near as it is a popular pickpocket location. You can take an amazing picture with the view of Florence behind you. Choose to stand in front of the bars or sit on the ledge. Sitting might be scary, so please use your discretion.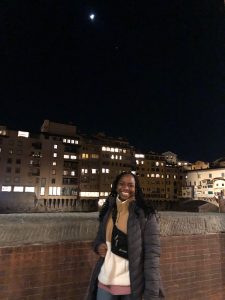 Ponte Vecchio
The Ponte Vecchio is a classic must see when in Florence. You can take the photo at any time of the day. It is less busy around sunset and nightfall. Standing on either side of the bridge will give you a great view to look at and a great view in your photo.

Basilica of Santa Croce
The Basilica of Santa Croce on the outside offers a grand vast space, giving you room to be creative in your photo. Due to it being a religious entity, please remain respectful in your pictures. You can stand far away to get the Basilica in its entirety or close up. Selfies are also a good way to go for this location.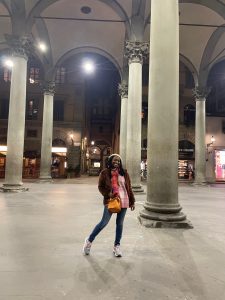 The Columns by the Wish Pig
Now this one can be challenging as the markets are there during the day. In order to take a photo by the columns, you would have to take it at night. There will be an open space where you can be as creative as you want. This location is good for the classic portrait, showing off a full outfit, or leaning against a column.

Ultimately, you can't go wrong having a photoshoot in Florence. Before you go and take the best photos ever, here are a few bonus tips:
If you're taking photos at night, bring your friends. Do not go alone.
If someone is offering you a selfie stick by the Duomo, say no and walk away.
Look around your surroundings before, during, and after as cars, vespas, and bikes are in constant movement
Keep all your personal belongings on you at all times. If you want to remove an item, ask a friend to hold it for you while you take the picture.Have fun taking photogenic pictures and if you have any photos you want us to share of your study abroad journey, tag @SAIPrograms!
Have fun taking photogenic pictures and if you have any photos you want us to share of your study abroad journey, tag @SAIPrograms!
Kayla is a SAI Florence student in Spring 2023, from Thomas Jefferson University East Falls Campus