April 11, 2023



Traveling to a new country across the world can be very rewarding and exciting, but it definitely does not come without its challenges. Once settled into your new home, it can be a daunting task venturing out to explore such an unknown environment. But as many of us know, the only way to meet new people and find your new favorite places is to go out and try new things! Through the amazing program planning of SAI Programs it becomes possible to create new memories and find new places to love in an informative environment. SAI viva experiences such as pizza making, wine tasting, and paper marbling have allowed me to meet new people while gaining a broader appreciate and understanding of the culture around me.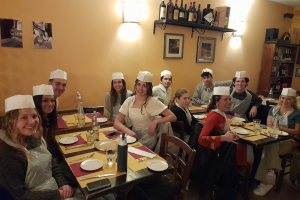 PIZZA MAKING
No matter if you like it spicy, plain, saucy, or even cold, everyone loves pizza in one way or another. The art of pizza had its humble beginnings in Italy and no better place to test out my underutilized pizza making ability. We met at Pizzeria Academia near San Marco square in Florence to begin the journey. The event started with a brief introduction to pizza making which included learning about the dough making process and the importance of sourcing fresh local produce to establish the best tasting sauces and toppings. After listening and watching the master at work, we were given an opportunity to create our own pizza. The process looked simple; shape the dough, spread the sauce, and add the toppings. I soon learned I may not have a magic touch when making pizza as I once thought (my lunchables surprisingly did not prepare me nearly enough). With a helping hand, I was able to finish up my pizza and throw it in the oven. We took it out and I was proud to say it tasted just as good as it looked. Job well done!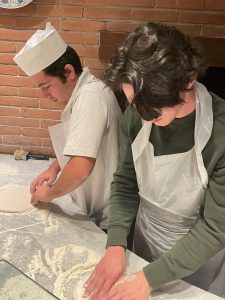 WINE TASTING
My Italian experience has broadened my knowledge horizons around food while also exposing me to different tastes that I would've never pushed myself to explore. One of these avenues is the world of wine. Something so common and accepted within Italy yet was never a large part of my life prior to studying abroad. SAI experiences such as wine tasting truly changed my mindset and perspective when talking about and drinking wine. The event was led by local shop owner Pino, who also the famed owner of the local Pino's Sandwiches (highly recommend a visit!). As we walked into the basement shelter of the wine shop it felt as if I was transported into 1700s wine cellar with endless shelves of dusty wine bottles that seem to have been breathing in the musky air for hundreds of years. We began the tasting with samples of cold pressed olive oil, some of Modena's best aged balsamic vinegar and delicious parmesan cheese. The abundance of flavors tells the history of Italy's best products from Tuscany. Pino walks us through the production of wine in the Tuscan area with a high focus on Chianti wine, Tuscany's red superstar. Through the event I learn of wine classification that has proven to be helpful when deciding on which wines to buy and try within my daily life.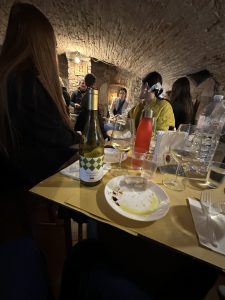 PAPER MARBELING
I know what you're thinking and yes, there are other SAI viva experiences that are not completely centered around food (though those tend to be my favorite). I was lucky enough to participate in an event focused on the historic art technique of paper marbling. Paper Marbling dates back centuries and has its own roots in Florence. Heading to a small shop near Santo Spirito square, we were greeted by two enthusiastically friendly women who run the paper shop. During my time there I was able to learn about a multitude of paper marbling techniques along with other services they carry out within their shop. A generational lasting store still provides rebinding for local libraries and education institutions. Their impressive paper marbling work can be transferred onto many items including notebooks, pens, jewelry cases, and even leather goods. Although difficult, with the guidance of the owners I was able to create my very own pattern on paper through the marbling technique. The ability to showcase the interesting and historic way of transferring paint onto paper was a unique way to gain a new understanding of Italian artistry.
All of these viva SAI experiences have been extremely influential and informational to my time in Florence, Italy. Attending such events has allowed me to meet new people and connect with locals in ways I never imagined. I highly recommend getting out of your comfort zone and trying some new activities. When creating new memories through SAI Viva Experiences I recommend keep three things in mind:
– Don't be afraid to ask questions! They owners are locals and can give some amazing advice and recommendations for the area.
– Take a leap outside of your comfort zone. From new foods to new art classes, viva experiences are a greater way to broaden your horizon.
– Talk to new people! The viva experiences are a greater way to make last memories while also creating new connections and friendships with students within your program.
Written by: Joe Stoener, Spring 2023 Florence student from University of Missouri.