July 31, 2023



As I leave behind my life in South Florida, and begin my new journey in southern Italy, I can only take a few things with me to comfort me through this amazing experience, one of them being the practice of meditation. Back home, I have a list of spots that I use to calm my mind and soul when I feel the responsibilities of everyday life become too much, or, when I simply want to disconnect from the modern world. Some of these spots back home include the beach at sunrise, local parks in my community, my apartment balcony and my grandmother and aunts gardens. While I can not take these spots with me, my practice follows me everywhere through my journey and I can pick it up again no matter where in the world I am. I am now on week two of my five week internship and already I have connected with spots that draw my inner peace out, as I share them with you, I hope you are able to find this peace too.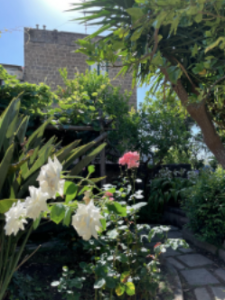 The first spot that instantly spoke to me was the garden at Sant'Anna Institute. I have seen many gardens before and this is by far one of the most beautiful. As Italy has the same climate of South Florida, many of the plants I saw in this garden were the same I see at home and many are even in my grandmother's garden. There was a wide variety of flowering plants, leafy plants, big beautiful trees that created much shade and even some apricot trees! The garden was divided into different sections with seating areas, and one area even had a hammock and a wooden swing. It was quite a magical spot to be in and, secluded from the main road, there was little to no distracting noises. Here I would spend time sitting with my eyes closed and focusing on my breath or walking around the garden seeing what plants I know by name, admiring their beautiful colors. Below you can see some photos but nothing does it justice than actually being there.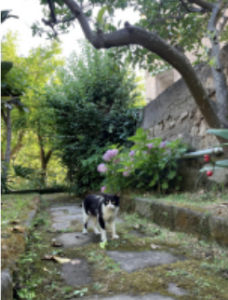 Before coming to Italy, I knew I wanted to explore this spot, but being in this space in person evoked a feeling of true happiness, peace and gratitude. The Bagni Regina Giovanna is accessible by foot, automobile or water mobile. The Regina Giovanna consists of many different swimming and sitting spots, all of which should be explored. The first time I visited this spot I kayaked there during sunset, and because I was with a group we spent only about an hour swimming in the lake-like formation that is surrounded by rocks on every side. On our way out, I was able to sit in my kayak and watch the sun dip down till I was left with endless ocean views; indeed this whole experience brought about a euphoric feeling.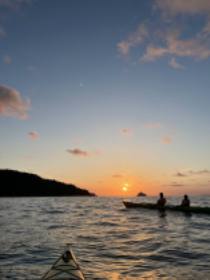 The second time I had visited this spot, I took a bus there by myself which dropped me off as close as possible and then I walked about 15 minutes through beautiful untouched rugged landscape till I was popped out to the water edge. On my left was a huge area of rocks that was perfect for lying down seated right in front of the sea, perfect to cool off in. On my right was the famous center circle with not much seating area but perfect for swimming around, and right in front were more rock areas that were perfect for cliff diving! Truly, this spot had everything. I spent the first part of my trip cliff diving with new friends I had met on the bus, but once they left I found a spot on the lower end where I took that time to start my meditation. I began by swimming in the sea, which was the perfect temperature. The sea here is breathtaking, and if you lay on your back and just float you can hear only the natural sound of the water under. I then returned to the rocks where I spent some time reading a book, but such a wave of calmness took over me that I could only lay there admiring the view and listening to the water splash on shore. Being from South Florida, I already have a connection with the ocean, but experiencing this vast sea was sublime. An easy spot to get to, this will have to be my top meditation/ relaxation spot. I once again stayed till sunset and thanked mother nature for such a wonderful life.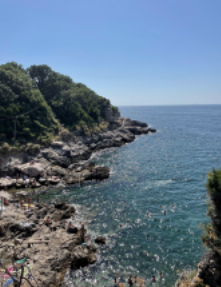 As my time in Italy comes to a close, I will now have new memories, experiences and connections to take home with me that I will always cherrish. I know being out of your element can not always be an easy thing, but finding new adventures can be easy especially if these adventures naturally speak to your heart. For anyone who has the pleasure of visiting Sorrento, I hope my adventures can inspire you to create some of your own.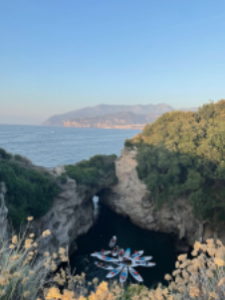 Written by: Shannon, Summer 2023 student from Florida Atlantic University