June 4, 2019



This is a guest blog post written by Dr. Lynn McGee, faculty member in the Department of Business Administration at the University of South Carolina- Beaufort. Dr. McGee recently participated in a professional site visit to SAI's Barcelona programs and shares her observations and perspectives here:

Barcelona: "The Great Enchantress"

 Art critic Robert Hughes' describes Barcelona as "the great enchantress."  Barcelona is "peopled by serious Catalans—a creature not to be confused with a Spaniard," infused with the arts and bubbling with entrepreneurial energy.  Barcelona offers students a rich opportunity to engage in a distinctive European/Mediterranean culture and way of life.

As a university faculty member and administrator visiting Barcelona to assess US undergraduate student learning opportunities, I enjoyed four days working with the SAI staff on site. The SAI staff's depth of knowledge and breadth of connections was of immense value. It opened many doors for key business and cultural connections.

In my academic area, Business, the curricula I reviewed, the faculty and administrators with whom I met and the US students studying at each of the major partners whom I interviewed indicated that the academic programs are rigorous and the students are fully integrated with Spanish and European students in courses taught in English. The quality and reputation of the educational institutions with which SAI partners is very strong.

A thoughtfully designed entry process for students builds friendships and connections across the cohort of SAI students studying at multiple universities in Barcelona via a group welcome dinner, cultural activities, events and trips outside Barcelona. Staff connect students to unique cultural experiences and interactions with local professionals and families—through internships, volunteer work and host family placements. SAI staff provide 24-7 emergency access to students.

Students studying with SAI in Barcelona live in apartments shared with other SAI students…in the heart of the city.  These apartments are vetted by SAI and ready when students arrive. In fact, SAI arranges a private driver who meets students as they arrive in the airport and delivers students to the apartment with the key.

Barcelona:  Walkable city…of many "villages:"
La Ramblas—spine of the city, follows an old riverbed down to the harbor
Passeig de Gracia—European shopping district with world's top brands
Gracia and Gothic districts—each a different "village" within a "city."
The Eixample: "One of the most interesting urban areas in Europe"
La Barceloneta and its beaches…in the heart of the city.
SAI students have many opportunities to engage in the lives of locals, through volunteer placements, host families and internship assignments.  A vital aspect of study abroad is developing relationships with and learning from locals, while also navigating a city and finding those special aspects, offerings and experiences that engage and delight you as an individual.
Don't miss the chimneys of LA PEDRERA: Gaudi's urban home designs incorporate "the most marvelous three dimensional forms of his time… the chimneys." Do you think these forms—created in 1912– inspired Darth Vader?  And, yes, Gaudi is the architect of the Sagrada Familia in Barcelona as well.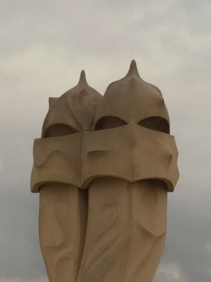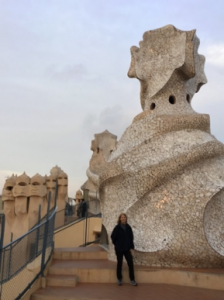 Dr. McGee also had the opportunity to visit several cultural and academically relevant sites in Barcelona. Some of the most memorable, in her words:
The emerging Glories technology district in Barcelona hosts an entrepreneurial culture that opens its doors to business students and interns.
Barcelona offers easy, affordable access to the staples of the Catalan cuisine. Regional specialties are found in city markets like La Boqueria or presented by regional chefs with international reputations—in restaurants across the city.
The Sagrada Familia basilica flows from architect and craftsman Antoine Gaudi's medieval Catalan vision—"a balance of feeling and logic" and "obsession with craft culture" and "deep piety." It's a place to sit quietly and enjoy a space that challenges your emotions, intellect and conception of architecture.
Of course, drink from Font de Canaletes on La Ramblas and you'll return to Barcelona per local lore
A spirited, artful community: Internationally recognized 20th century artists Juan Miro, Salvador Dali, and Pablo Picasso emerged from Barcelona's stimulating environment. Their work surprises and delights as you wander the city.
Other Barcelona adventures await… 
…Cheer for Barca football team in a match at Camp Nou,
…Explore Montserrat—and take a hike in the nearby hills.
…Visit Girona, Sitges, Figueres—easy jaunts by train from Barcelona
…Invest an afternoon in one of the museums on Montjuic
…Enjoy the music culture, look for castellers, and see a Sardonna dance.
About the Author:
Lynn W. McGee, Ph.D. serves as faculty and administrative staff in the Department of Business at the University of South Carolina Beaufort. Previously, she served USCB as Vice Chancellor for Advancement and External Relations during the decade when USCB was recognized by the Chronicle of Higher Education as the fastest growing public university in the United States. As Vice Chancellor, she received a Fulbright grant to initiate and formalize international exchange programming for this new university. Lynn has intermittently traveled, studied and lived in Europe since childhood. Each of Lynn's four sons pursued international educational experiences as children and then independently during their college years and in their careers in Asia, Europe, and Africa.