June 30, 2020



On the menu this week from GG's recipes is a sweet and colorful dish – the perfect addition to any summer table. Peperonata gives you the opportunity to hit your local farmer's market, or better yet, your own garden to collect fresh bell peppers, tomatoes, onions and basil. Your guests will love this refreshing and tangy recipe!

If you are interested in learning more about culinary arts, tourism and event management, or wine studies check out our blog How to Expand Career Options with a Career Certificate. SAI offers the unique opportunity to gain professional experience abroad through our partner Florence University of the Arts. You will build your resume, develop professional skills and expand your own horizons – all in an international setting.

Alla tavola – buon appetito!
Peperonata
Serves 4
Ingredients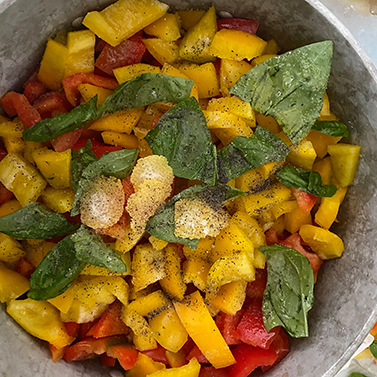 5 bell peppers (clean and cored, chopped into small cubes)
salt and pepper
1 lb tomato sauce (or 11 oz Pachino tomatoes, halved)
3 large onions, finely sliced
3 tbsp extra virgin olive oil
1 tsp grated lemon rind
1 chili pepper
2 basil leaves
salt and pepper
Place all ingredients in a pan. Season with olive oil, salt and pepper. Cover and cook at a low flame for about an hour, stirring occasionally. When the water released from the vegetables has completely evaporated, uncover and cook for an additional 5 minutes. The lemon peel (avoid the white part of the rind!) makes for easier digestion and adds a unique flavor to the dish.
---
Gabriella Ganugi is an architect and the founder of Florence University of the Arts – The American University of Florence, which includes the Apicius School of Culinary and Hospitality Studies. Gabriella is the recipient of the 2010 AIAE Association of Italian American Educators "Educator of the Year" award and the Florence Chamber of Commerce award for extraordinary female entrepreneurs. She also received in 2012 special recognition from the University of South Florida – the USF President's Global Leadership award – for her efforts in cultural and international crossovers in education. Her memoir, "The Girl Who Counted Ants: Meditation in the Kitchen" published by Ugo Mursia Editore in Italy, recounts the story of a young Tuscan girl who grew up to make an impact on international education. She lives in Florence and New York City.