May 18, 2020



Since most of us are at home these days, SAI felt it was a great time to share the inspired culinary work of our partner school in Florence. Apicius is the Culinary and Hospitality department of Florence University of the Arts – The American University of Florence. The kitchens at Apicius emit enticing smells from the delicious creations prepared by professional chefs and their students-in-training. We hope you'll take the time to try some of these dishes on your own. Each week SAI will share a new recipe to try from FUA President, Gabriella Ganugi, a chef and cookbook author herself.

The Culinary Arts program is just one of many tracks offered by FUA-AUF's Career Certificate program. The certification options immerse students in their professional field of interest with opportunities to connect with fellow business professionals in an international setting. This experience will afford students unique skill-sets in intercultural competency, adaptability and problem-solving. Learn how to set yourself apart in the professional world by checking out our blog "How to Expand Career Options with a Career Certificate?"

Buon Appetito!
Strawberry and Whipped Cream Roll
Serves 8
Ingredients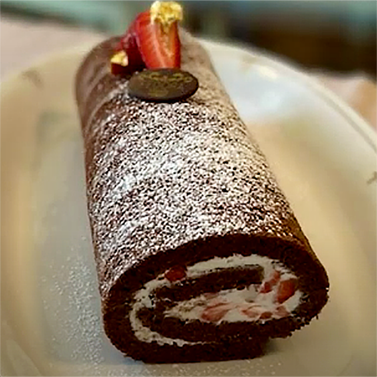 1/2 cup of sugar
1/4 cup of butter, melted
1 oz or roughly 2 tbsp of cocoa powder
2 tsp baking powder
3 eggs
just over 1/2 cup of flour
2 tbsp vanilla sugar
11 oz strawberries
just over 1 cup of whipped cream
Beat the eggs with the sugar until fluffy and foamy. Stir in the flour, cocoa powder, butter, and baking powder, using a wooden spoon. Line a shallow baking tray with baking paper and pour in the mixture. Bake for 10-15 minutes at 355°F. Remove from the oven, cover with a cloth, and turn the cake over. Roll into a spiral form. In the meantime, clean and chop the strawberries into small pieces. Mix in the vanilla sugar. Fold in the whipped cream. Unroll the cake and spread the strawberry mixture on top. Roll back into the final shape, dust with powdered sugar and serve.
---
Gabriella Ganugi is an architect and the founder of Florence University of the Arts – The American University of Florence, which includes the Apicius School of Culinary and Hospitality Studies. Gabriella is the recipient of the 2010 AIAE Association of Italian American Educators "Educator of the Year" award and the Florence Chamber of Commerce award for extraordinary female entrepreneurs. She also received in 2012 special recognition from the University of South Florida – the USF President's Global Leadership award – for her efforts in cultural and international crossovers in education. Her memoir, "The Girl Who Counted Ants: Meditation in the Kitchen" published by Ugo Mursia Editore in Italy, recounts the story of a young Tuscan girl who grew up to make an impact on international education. She lives in Florence and New York City.