December 8, 2020



In Barcelona, the holiday spirit starts when the Christmas lights are on and the Fira de Santa Llúcia market opens. The Fira de Santa Llúcia has been held in front of Barcelona's beautiful gothic Cathedral since 1786 and attracts many visitors each year looking for Christmas trees and decorations, local handmade gifts, beautiful craft nativity scenes, eucalyptus branches, activities for children, and more. 

The Fira de Santa Llúcia includes two very special Catalan Christmas characters:  
The Tiò:

 The Tiò is a decorated log with little wooden legs, a red hat, a painted face. The tradition begins December 8 with the feast of the Immaculate Conception. Tiò is placed near the Christmas tree with a blanket and is looked after by the children from December 8 to December 24. They will feed the log with oranges, Turrón, and cookies, as the more they feed the log, the more Christmas presents he will magically release on Christmas Eve. After this, the children are finally allowed to remove the blanket and take the gifts. It is truly a beloved local tradition! 
The Caganer

: The Caganer is another unique character in Barcelona's Christmas celebrations. The Caganer is a squatting figurine, traditionally a peasant with a white shirt and bonnet that normally appears in the nativity scene crouched behind a tree. There are many theories about the Caganer's origins. Some say that it represents fertility of the earth and therefore good luck. Others say that The Caganer represents the mischief and humility of accepting what we all have in common. The Caganer has changed through time and holiday markets now include contemporary caricatures of famous people crouching.
A few more facts about the holidays in Spain: 
Traditionally, Spanish families do not celebrate Father Christmas/Santa Claus. The presents are delivered on January 6 by the three Wise Men: Kings Melchior, Caspar, and Balthazar.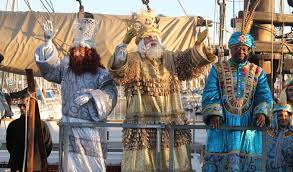 In Spain, 12 grapes are eaten on New Year's Eve, which is both a tradition and a superstition. If one does not manage to eat the twelve grapes before the twelve chimes of the bells are over, back luck will come in the new year. 
Christmas celebration ends with the arrival of the Three Kings. On the evening of January 5, Spanish towns and cities have a beautiful parade ("la cabalgata") to celebrate the Day of the Kings (Día de los Reyes). This is the most magical night of the year in Spain as children receive their Christmas presents on the morning of January 6.  This year, the kings will not be able to wave from the traditional parade. Instead, they will prepare various surprises so that all children can deliver their letters and continue to celebrate. In Barcelona, their parade will be broadcast live.
This blog was written by Sandrine Bellan, SAI's on-site Barcelona Program Manager.